Wired2Fire Phoenix Intel Review Rating
Summary
The Wired2Fire Phoenix is an excellent mid-range gaming PC ideal for 1080P or 2560P. Build quality is excellent and the overall cost of the PC is about the same as buying the components separately and building it yourself.
Pros
Well priced PC that either matches or is under buying the components separately.
Windows 11, build and 5-year warranty are essentially free of charge
Ideal for 1080P gaming and works well at 2560×1440
Cons
None modular, bronze rated budget PSU
No RGB fans on the motherboard/GPU/CPU cooler
Some inconsistencies between product page specifications and delivered item, though these were generally upgrades.
I previously reviewed the excellent Wired2fire Predator last October, which used the AMD Ryzen 5 5600X & RTX 3060 Ti. It was an impressive mid-range PC idea for 2560×1440 gaming.
For the past couple of weeks, I have been checking out the more affordable Wired2Fire Phoenix Intel, which falls under the powered by MSI range of PCs Wired2fire make.
This PC uses the latest 12th gen Intel Core i5 12400F CPU and an MSI Nvidia Ventus 2X RTX 3060 GPU. To keep costs down, the motherboard is a DDR4 compatible micro-ATX MAG B660M Mortar.
It is geared towards 1080P gaming, though I tested it at 2560×1440 and have found it very capable at this resolution.
Specification
| Wired2Fire Phoenix Intel | Retail Component Pricing |
| --- | --- |
| MSI MAG VAMPIRIC 100R RGB | £50 |
| Intel Core i5-12400F | £170 |
| Arctic Freezer 34 | £30 |
| MSI Nvidia Ventus 2X RTX 3060 | £479.95 |
| ADATA XPG 16GB DDR4 3000MHz Dual RAM | £70 |
| MAG B660M Mortar Wifi DDR4 | £180 |
| 1TB Lexar NM610 M.2 2280 NVMe | £100 |
| MSI MAG A550BN | £45 |
| Total | £1124.95 |
The stock configuration of this build states the GPU is MSI GeForce RTX 3060 VENTUS 2X LHR. What I actually got was the MSI GeForce 3060 VENTUS 3X 12G OC, which is the triple fan version. The VENTUS 3X is a superior card, and I guess these sorts of changes will happen due to inconsistent stock levels of GPUs and other components.
Price & Recommended Changes
The default configuration of the Phoneix Intel is priced at £1099.
I'd suggest spending the extra £8 on 16GB Standard DDR4 3600MHz. I'd also consider swapping to the 1TB Samsung 980 PCIe 4.0 NVMe.
If you can push your budget a bit higher, spending £93 extra on the MSI Ventus 2X OC RTX 3060 Ti would provide a significant boost in gaming performance.
The PSU is more difficult. It is very much a budget PSU, and being bronze rated and not modular is not ideal. Many people would suggest not to cheap out on the PSU. While I would prefer a better PSU, all the other good options come with a significant cost. Both the PC and PSU have a 5-year warranty, so I am not sure spending the extra on a Corsair PSU would be worth it.
Alternative Options – How much does it cost compared to a self build?
|   | 3XS Gamer 3060 |
| --- | --- |
| Corsair iCUE 220T RGB | £73 |
| ASUS PRIME B660-PLUS D4 | £200 |
| Intel Core i5 12400F | £170 |
| be quiet! Pure Rock 2 | £34 |
| Corsair Vengeance LPX 3600MHz | £74 |
| EVGA NVIDIA GeForce RTX 3060 | £479.95 |
| Corsair CX550M Semi Modular | £55 |
| 1TB WD Blue SN570 | £85 |
| Total | £1170.95 |
For comparison, I looked at Scan for a competing system and also tried to price up the system as a self build.
With GPU prices fluctuating so much and stock levels varying, my component prices are subject to change.
When I started writing this, the MSI Nvidia Ventus 2X RTX 3060 is listed as £539, but Amazon now have it as £479.95
Then the 1TB Lexar NM610 is listed on Amazon for £100, but you can get better NVMe drives for less money.
Therefore I priced an almost like for like system as £1095. My system price does not include a Windows 11 licence. So you save a bit of money compared to building it yourself.
Looking at Scan, they have the 3XS Gamer 3060. This is priced at £1191. It is essentially the same, using a B660 motherboard, RTX 3060 and Intel Core i5 12400F. I'd say the Scan system is a touch better. You have 3600MHz DDR4 as standard, and a better PSU. Scan only provides 3 years of support vs 5 years.
Therefore I think the Wired2Fire Phoenix provides good value both compared to competing system builders and building the system yourself.
Delivery & Packaging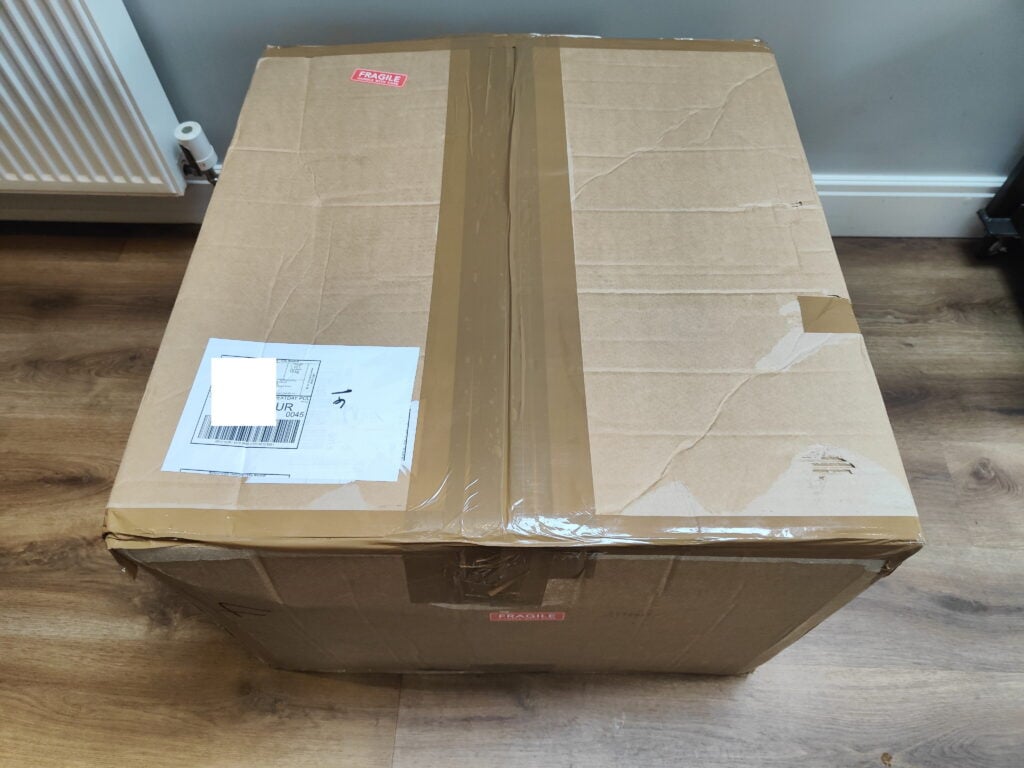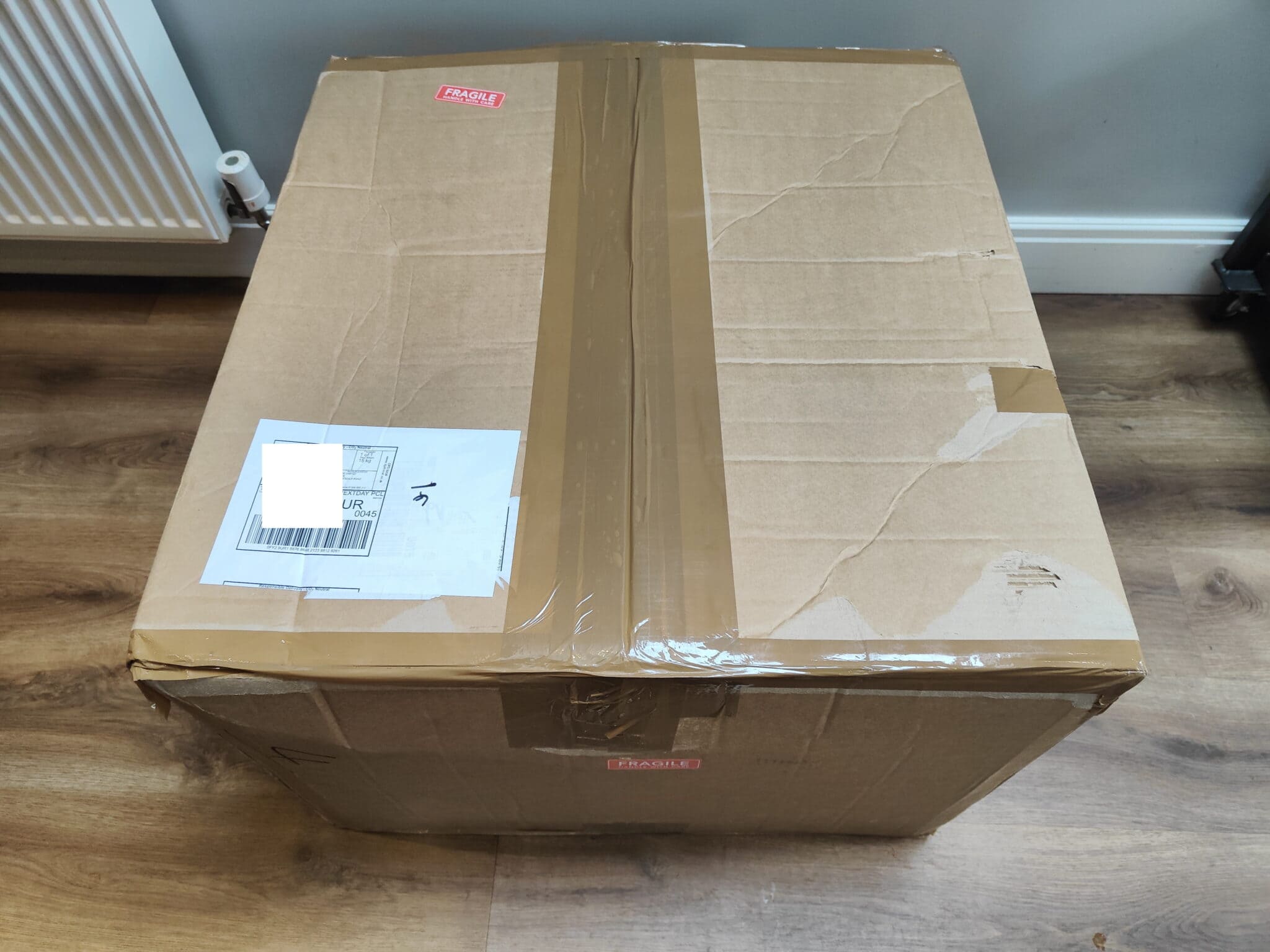 Just like the Wired2fire Predator, delivery and packing were superb. The PC was delivered by DPD, so I received a 1-hour window and regular notifications.
The PC arrives in one massive outer box which is then filled with air-filled packaging, and the PC is then inside the original case box. The company ship out the motherboard box with all your cables, but they still don't send the GPU box, which will make selling your GPU harder should you want to upgrade at a later date.
The components of the PC are then protected with Instapak expanding foam packaging.
Overall, I can't fault the overall packing. Removing the GPU for shipment is arguably a safer alternative, but if you are buying a prebuilt system, you don't really want to have to start fitting your own components.
Build Quality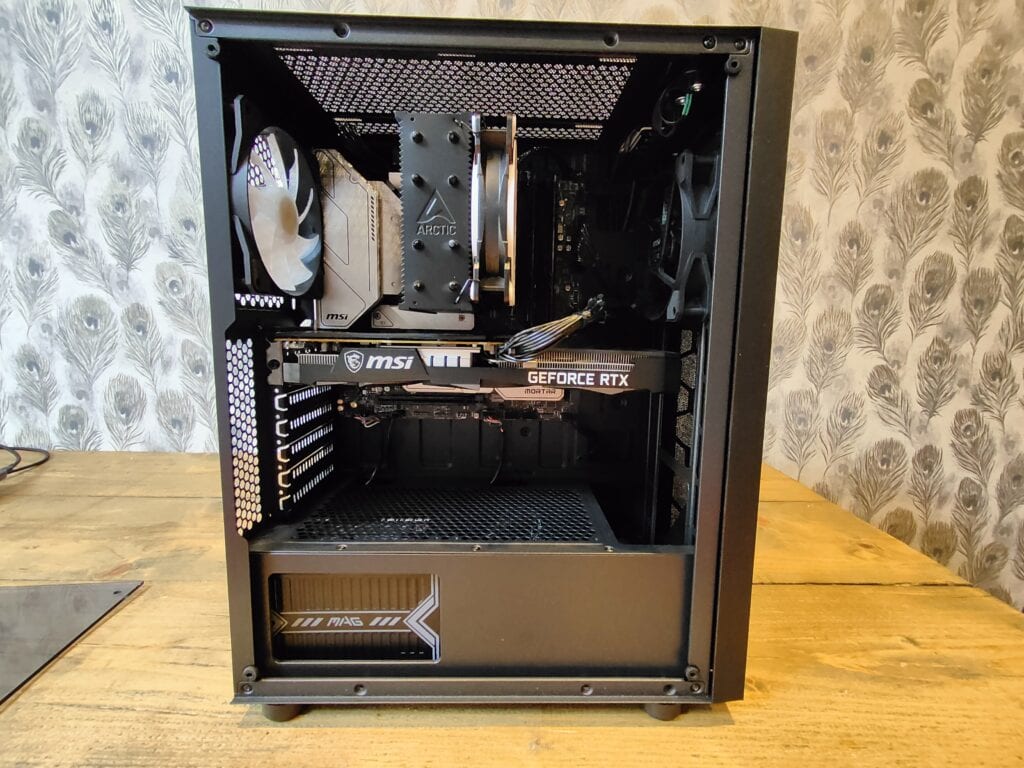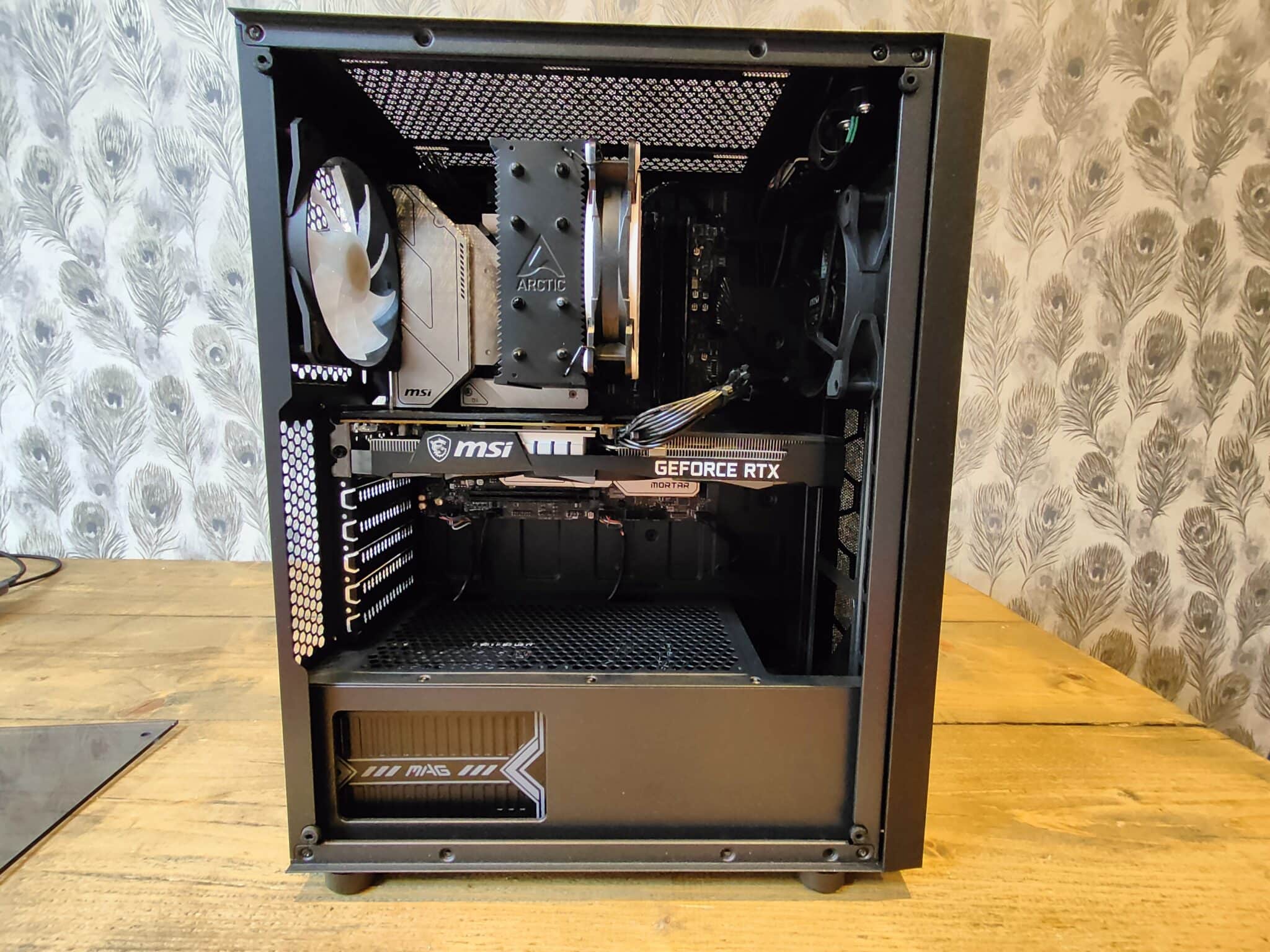 Build quality is excellent with nothing I can criticise. Cable management was particularly impressive. Not only have they kept the visible portion of the case tidy, but Wired2fire have tidied up the underside of the motherboard.
The PC is assembled far better than I would do myself, and it is worth factoring in this when considering prebuild vs self-built. As much as I love building a brand new PC, I just don't have the patience for all the cable management.
The case is budget but nothing specifically wrong with it. My main issue with cheap cases is that building the system is less enjoyable as they are harder to work with, but this doesn't apply here.
Wired2Fire has thankfully ditched the stock cooler and replaced it with the Arctic Freezer 34. This is a budget cooler, but it is quite good, you won't be doing any extreme overclocks with it, but I found that it kept everything running cool while remaining almost silent.
Fan noise, in general, is excellent. Under light load, my main work PC easily drowned out any noise the Wired2Fire made.
It is worth noting that the product page states "Wired2Fire Heatpipe CPU Cooler" and the associated image implies the cooler has an RGB fan, but this is not the case. The only RGB is from the rear case fan and the front panel. I have no strong feelings about RGB, so it doesn't bother me, but it perhaps does look a little odd to have unlit internals when you have a glass side panel. If you want RGB, there aren't any upgrade options I could recommend; you have the superb Noctua coolers, which don't have LEDs, or you'd have to spend £86 upgrading to the MSI MAG CORELIQUID C240 CPU AIO Liquid Cooler.
Performance / Benchmarks
This PC is designed to perform best at 1080P, but in general, it will run most things incredibly well at 2560×1440, and this is the resolution I did all my benchmarks on.
It can comfortably play the vast majority of the latest modern games at the highest settings.
3DMark 13 – Time Spy:  8475 (Graphics: 8672, CPU: 7512)
3DMark 13 – Time Spy Extreme: 4090 (Graphics: 4077, CPU: 41692)
PCMark 10: 7175 (Essentials: 10016 , Productivity: 9392 , Digital Content Creation: 10657)
Far Cry 6: 71fps average, 79fps max, 60fps minimum
Final Fantasy XIV Endwalker Benchmark: 
Assasins Creed Valhalla Benchmark: 82fps avg, 49 min, 146 max
CystalDisk: 2413MB/s read 1903MB/s write
Cyberpunk 2077
Cyberpunk 2077 is notoriously challenging to run at the highest settings being one of the most demanding games for your GPU in recent years.
With this, it wasn't just a case of going with the preset settings or dialling things up as high as possible. I had to mess about with things to get the game running well.
Like the other benchmarks, I had the resolution at 2560×1440, and it could be worth dropping down to 1080P so you can dial up the settings.
The results I achieved were:
Ray Tracing: Ultra:
Ray Tracing: Medium
Switching DLSS from Auto to performance, you can improve the performance considerably.
Ray tracing off, High Quality, DLSS Performance:
Ray Tracing On, High Quality, DLSS Performance:.
Overall
The WIred2Fire Phoenix is an excellent mid-range gaming PC ideal for 1080P or 2560P.
Build quality is excellent, I was impressed with the cable management, and the fan noise was very low.
The cost of the components works out slightly more expensive than what the system is being sold for, so you get the full build, Windows 11, and a 5-year warranty free.