2 hr 53 min ago
US gas hits a record of $4.17 a gallon
From CNN's Chris Isidore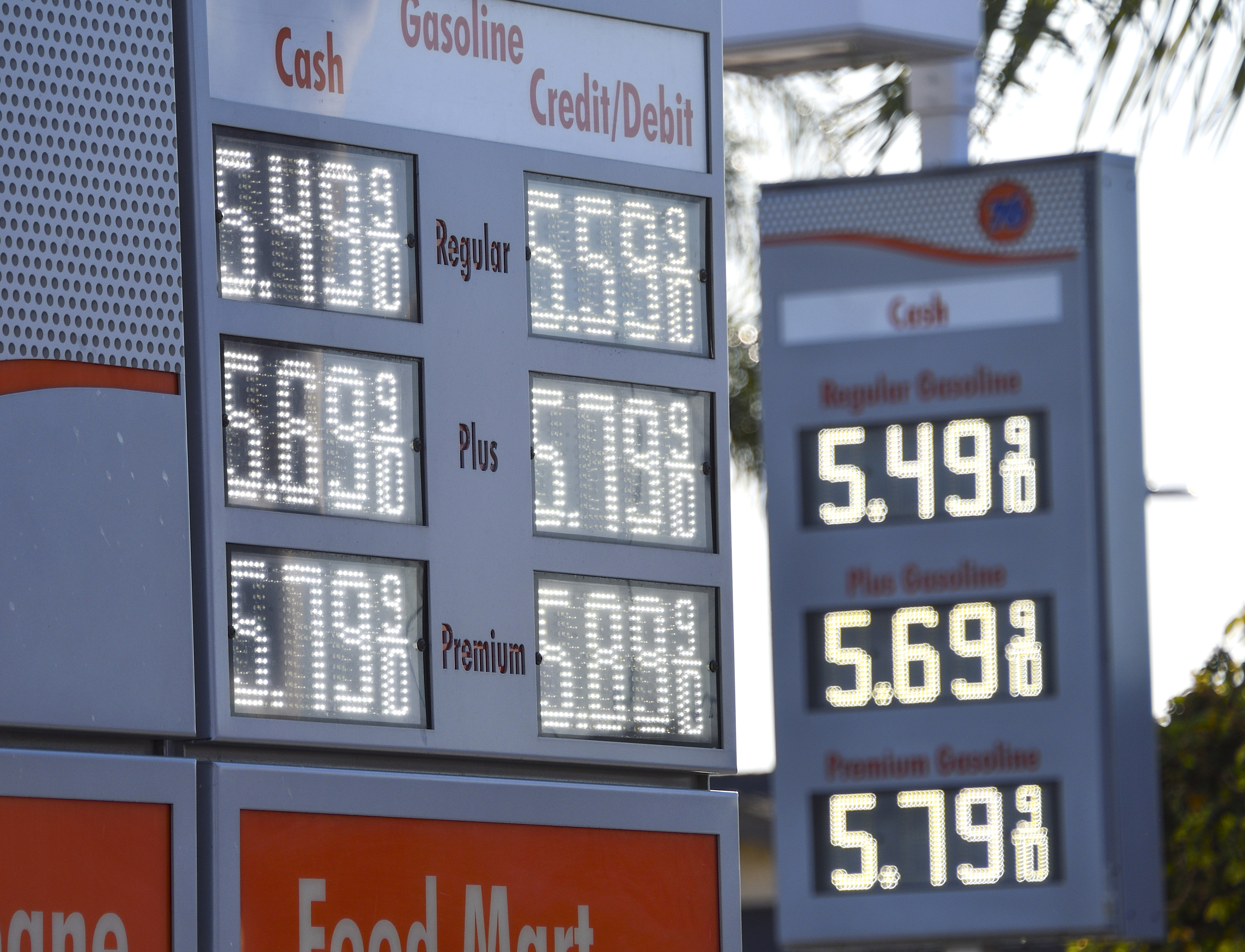 The price for a gallon of regular gas now stands at $4.17, according to AAA. That breaks the previous record of $4.11 a gallon that has stood since July 2008. 
As Russia continues its invasion in Ukraine, gas prices are rising faster than they have since Hurricane Katrina slammed into oil platforms and refineries along the US Gulf Coast in 2005.
Gas prices rose 10 cents since early Monday, gaining three of those cents overnight, according to the Oil Price Information Service, the firm that collects and calculates prices for AAA.
The price data is calculated on a dynamic basis with pricing information from 140,000 US gas stations. OPIS confirmed Monday evening that a new record of $4.14 a gallon had been reached. But enough stations raised their prices further later Monday and early Tuesday to lift the average to $4.17.
The $4.17 average means that the price is up 55 cents a gallon in just the last week, and 63 cents, or 18%, since Feb. 24, the day Russian forces invaded Ukraine.
3 hr 26 min ago
"The shooting is constant" around Kyiv, says former boxing champion who joined Ukrainian forces
From CNN's George Ramsay
Former heavyweight boxing champion Wladimir Klitschko, the brother of Kyiv mayor and fellow Hall of Fame boxer Vitali Klitschko, said the shooting is "constant" around the Ukrainian capital of Kyiv.
Klitschko, who retired from professional boxing in 2017, joined the Ukrainian Defense Forces after enlisting in Ukraine's reserve army last month.
"In the city of Kyiv, when you go to bed, you hear explosions, the launching of rockets to defend the city as well as landing, from bullets to rockets here on the territory of the city of Kyiv," Klitschko said in an interview on CNN.
"This pressure is enormous and gigantic on us, Ukrainians, but we stand together against this Russian aggression," he said.
Klitschko also warned about the potential of Russian missiles hitting a nuclear power plant.
Last week, Russian troops occupied Zaporizhzhia, Ukraine's largest nuclear plant, after a fire caused by the attack was extinguished.
Countries around the world swiftly condemned it, with the United States embassy in Ukraine warning that an attack on a nuclear plant was a "war crime" and the United Nations Security Council convening an emergency meeting.
"Ukraine is under huge threat and the world is under huge threat," Klitschko said.
"Not to forget that those missiles flying onto the Ukrainian side — the Russian missiles — could destroy one of the multiple nuclear power plants that we have. One was on fire two days ago," he said.
"There is no clear leakage yet, but we still have multiple reactors and just to know this war needs to be stopped as soon as possible," he said.
3 hr 27 min ago
Russia threatens to cut of Europe's gas supply by closing off Nord Stream 1
From CNN's Hannah Ritchie
A senior Russian official threatened to cut off Europe's natural gas supply on Monday in response to possible oil import bans Moscow could soon face over its invasion in Ukraine. 
"In connection with the unfounded accusations against Russia … and the imposition of a ban on Nord Stream 2, we have every right to take a mirror decision and impose an embargo on gas pumping through the gas pipeline Nord Stream 1, which today is loaded at the maximum level of 100%," Russia's Deputy Prime Minister Alexander Novak said in a televised address, noting the decision by German regulators last month to halt the certification of Gazprom's second pipeline, Nord Stream 2. 
Russia supplies about 40% of Europe's gas. Germany, the bloc's biggest economy, relies on Russia for almost 50% of its natural gas.
US Secretary of State Antony Blinken said on Sunday that the US and allies were actively exploring ways to ban Russian oil imports, which would damage Russia's economy even further as it tries to cope with crippling economic sanctions.  
The West has been reluctant so far to impose significant sanctions on Russia's energy sector because of how it might impact the global economy but are now getting closer to doing so as Europe works to diversify its energy sources.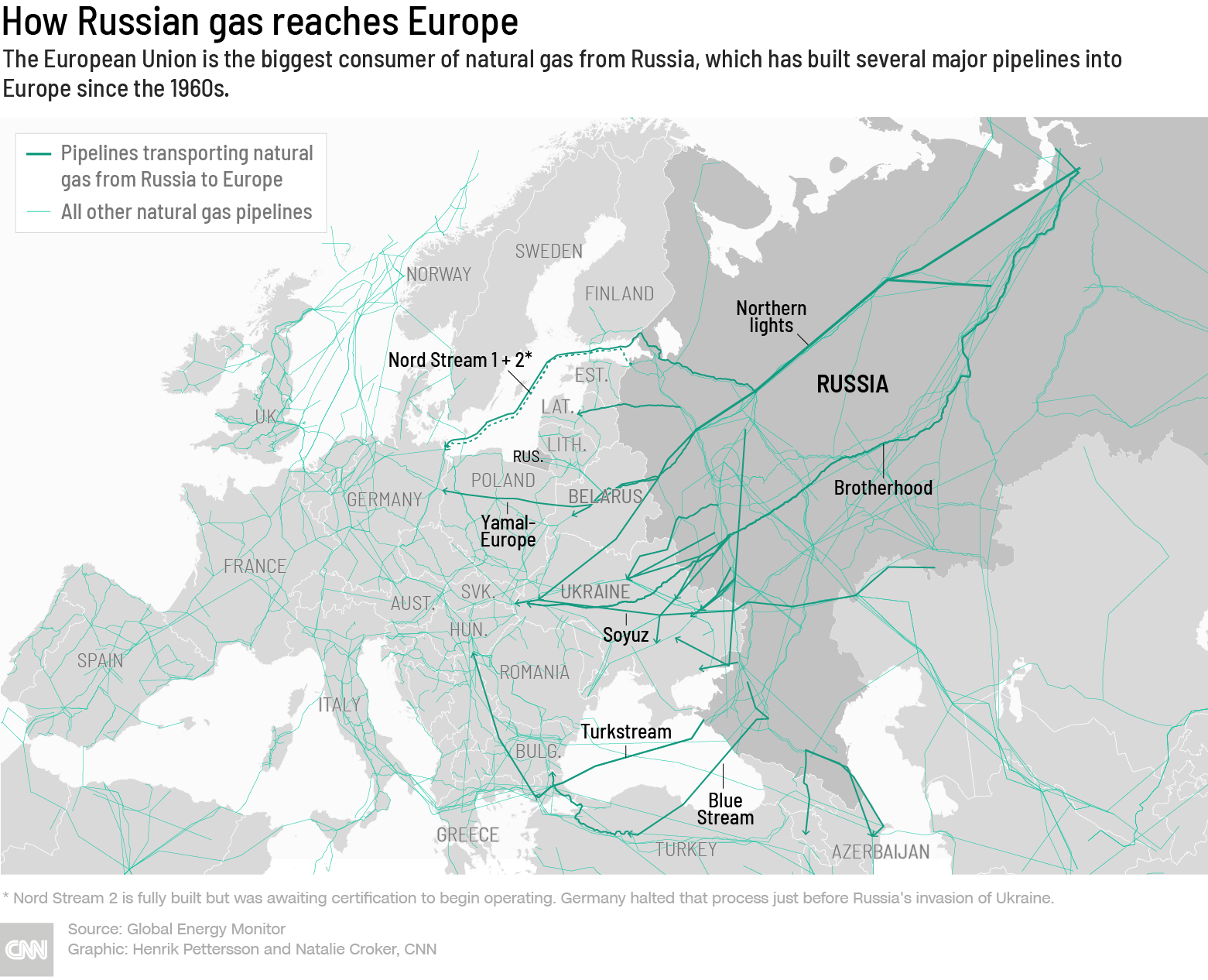 CNN's Natasha Bertrand contributed reporting to this post.
2 hr 40 min ago
Outflow of refugees from Ukraine reaches 2 million, says UN refugee chief
From CNN's Niamh Kennedy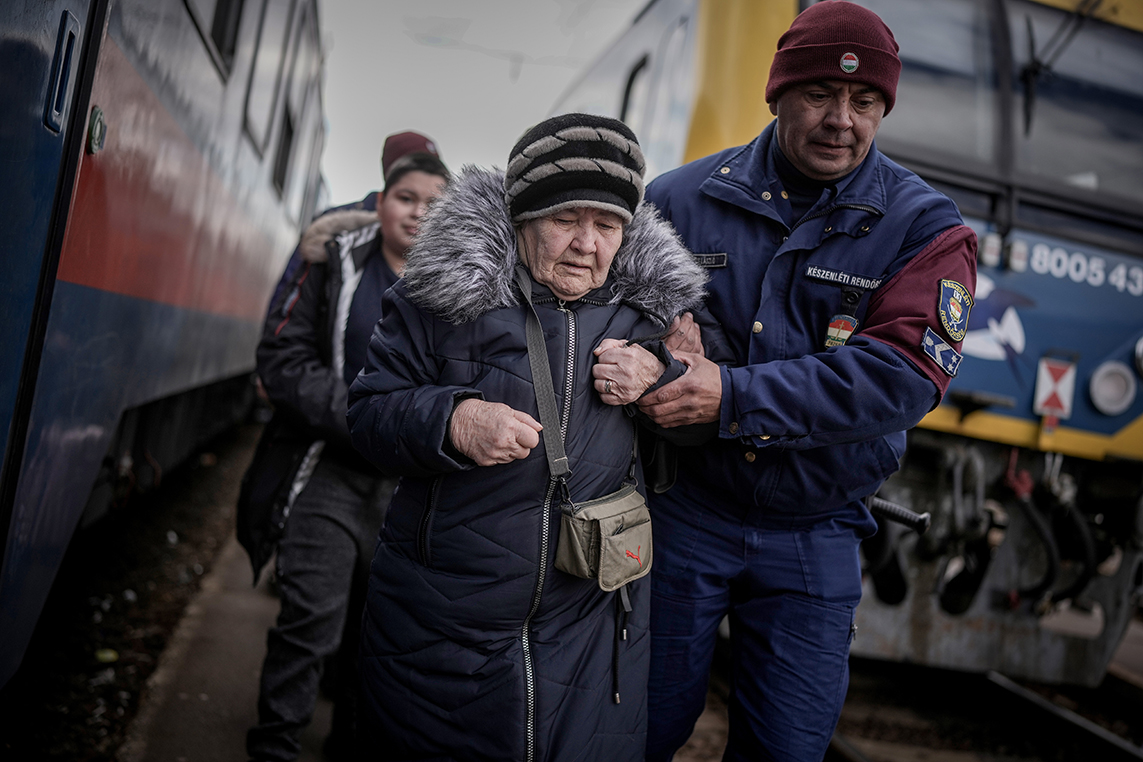 The outflow of refugees from Ukraine has reached two million, according to the UN High Commissioner for Refugees Filippo Grandi.
Speaking to French radio station France Inter on Tuesday, Grandi called the milestone a "terrifying" number.
"There are hundreds of thousands of people on the move, trying to flee the combat zone and seek refuge firstly inside Ukraine in the safe zones. But the safe space is reducing and people are inevitably trying to cross borders," he said
Nearly all the refugees are women, children, and elderly people, according to Grandi, who said he hadn't seen such a preponderance in his entire career.
"It's a very specified population. It's significant that on International Women's Day, men make war and women pay the consequences," Grandi continued.
He said most of the refugees have traveled to Poland, Moldova, and other neighboring countries, adding most move towards "where they have connections, family."
"What we fear is a second wave of persons who have a good deal less resources and connections and who will be much more vulnerable," Grandi warned.
Romania has taken in 281,000 refugees since the start of the conflict in Ukraine, the Romanian Border Police told CNN on Tuesday, although 208,000 of those have already departed the country.
The border police did not specify where the refugees were going after leaving Romania.
Watch more: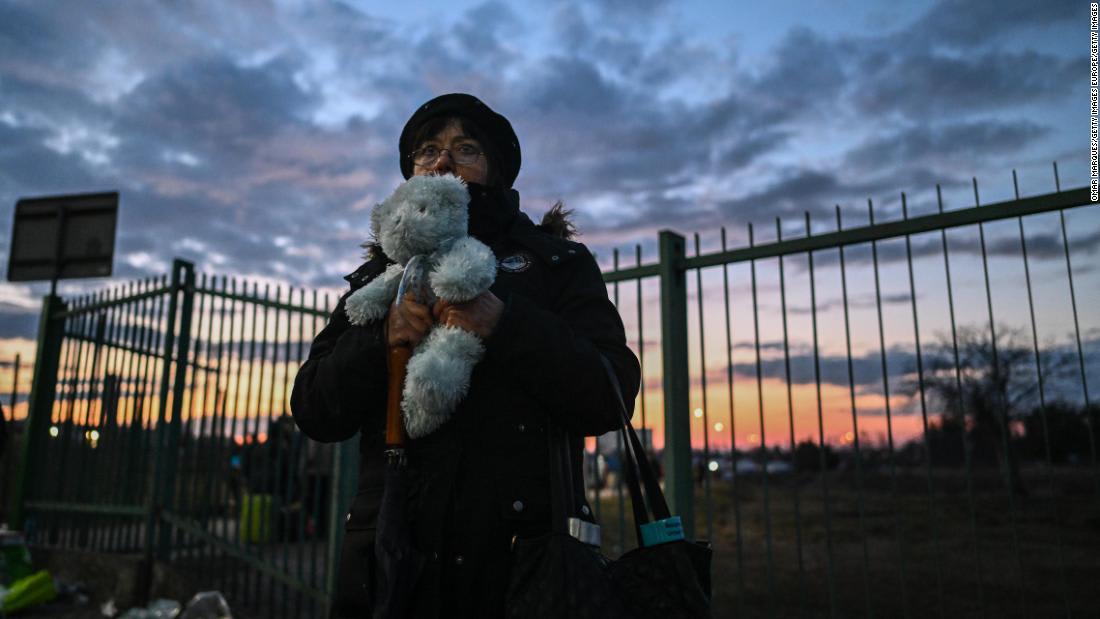 CNN's Miguel Marquez in Bucharest contributed reporting to this post.
3 hr 28 min ago
Russian Orthodox Church alleges gay pride parades were part of the reason for Ukraine war
From CNNs Delia Gallagher in Rome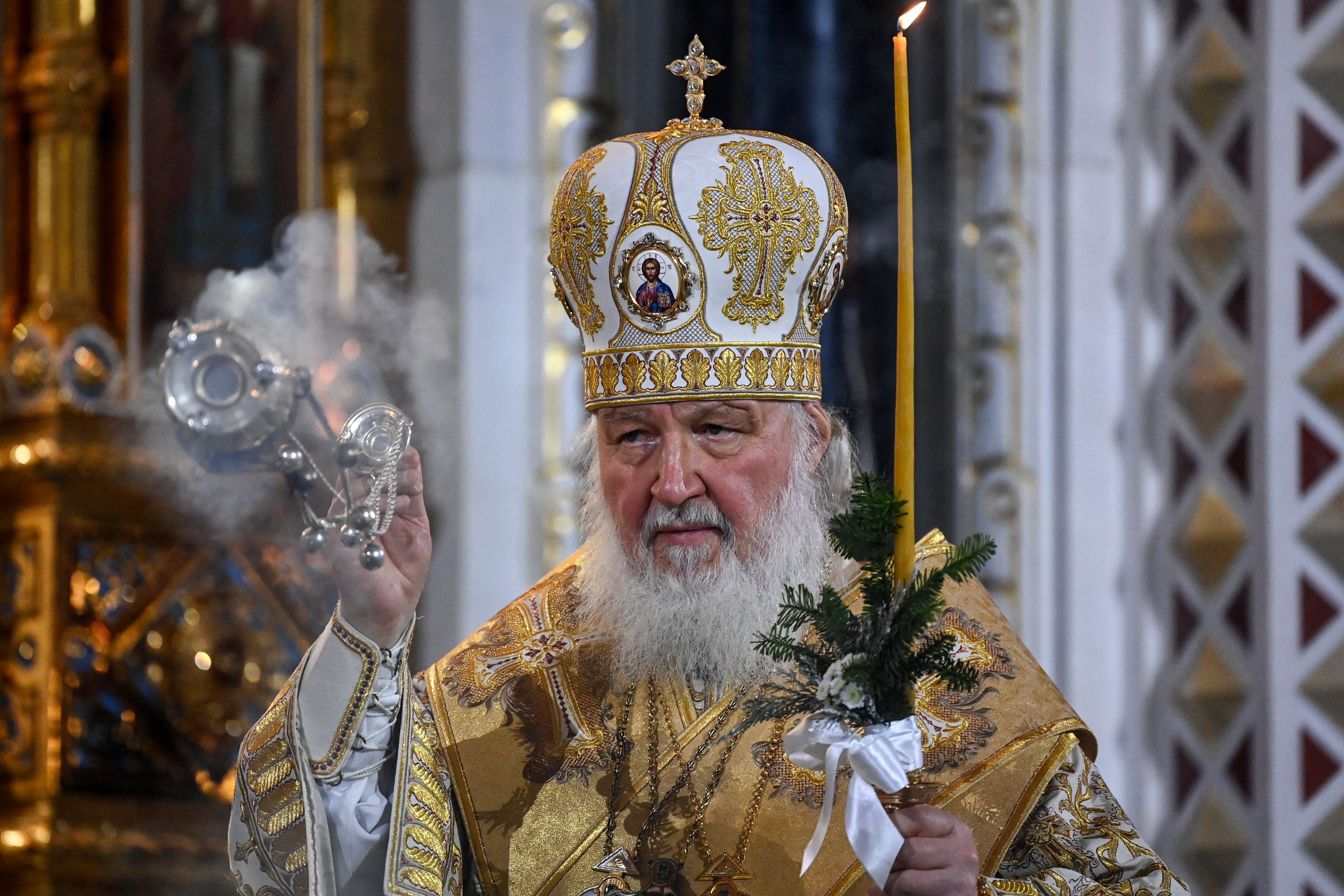 The leader of the Russian Orthodox Church said gay pride parades were part of the reason for the war in Ukraine.
Patriarch Kirill of Moscow, a long-time ally of Russian President Vladimir Putin, said on Sunday that the conflict in Donbas is about "a fundamental rejection of the so-called values that are offered today by those who claim world power."
The "test" of which side you are on, said Kirill, is whether your country is willing to hold gay pride parades.
"In order to enter the club of those countries, it is necessary to hold a gay pride parade. Not to make a political statement, 'we are with you,' not to sign any agreements, but to hold a gay parade. And we know how people resist these demands and how this resistance is suppressed by force," Kirill said during a sermon in Moscow.
Kirill categorized the war as a struggle of "metaphysical significance," for humanity to follow God's laws.
"What is happening today in the sphere of international relations has not only political significance. We are talking about something different and much more important than politics. We are talking about human salvation," he said. 
"If we see violations of [God's] law, we will never put up with those who destroy this law, blurring the line between holiness and sin, and even more so with those who promote sin as an example or as one of the models of human behavior," Kirill said.
"Around this topic today there is a real war," he said.
Patriarch Kirill is a major religious figure in Russia, where the Russian Orthodox religion is considered an integral part of Russian identity. He has come under pressure from within his own church since the beginning of the war to denounce Putin's aggression, but his public statements so far have failed to do that. On the contrary, Kirill's language has lent support to Putin's vision of a spiritual and temporal Russian empire.
3 hr 39 min ago
Shell to stop buying Russian crude oil and close gas stations across the country
From CNN's Chris Liakos
Shell said on Tuesday it intends to stop purchasing Russian crude oil and plans to completely withdraw from the Russian energy industry.
The energy giant says it plans "to withdraw from its involvement in all Russian hydrocarbons, including crude oil, petroleum products, gas and liquefied natural gas (LNG) in a phased manner, aligned with new government guidance."
It added in a press release that as an immediate first step it will stop all spot purchases of Russian crude oil and will shut "its service stations, aviation fuels and lubricants operations in Russia."
"We are acutely aware that our decision last week to purchase a cargo of Russian crude oil to be refined into products like petrol and diesel – despite being made with security of supplies at the forefront of our thinking – was not the right one and we are sorry," said Shell Chief Executive Officer Ben van Beurden. 
"As we have already said, we will commit profits from the limited, remaining amounts of Russian oil we will process to a dedicated fund. We will work with aid partners and humanitarian agencies over the coming days and weeks to determine where the monies from this fund are best placed to alleviate the terrible consequences that this war is having on the people of Ukraine."
Van Beurden added that "threats today to stop pipeline flows to Europe further illustrate the difficult choices and potential consequences we face as we try to do this."
Shell last week said it will exit its equity partnerships with Russian state energy giant Gazprom in light of Russia's invasion of Ukraine.
The news comes a day after British Prime Minister Boris Johnson said coordinated energy sanctions against Moscow, including a ban on Russian oil, are still "very much on the table."
Speaking during a Monday news conference alongside his Dutch and Canadian counterparts in London, Johnson said it was the "right thing" to move away from Russian hydrocarbons.  
On Sunday, US Secretary of State Antony Blinken told CNN's Jake Tapper that the United States is "now talking to our European allies and partners to look at a coordinated way" to ban Russian oil. 
Responding to a question as to whether Blinken was wrong in his remarks, Johnson replied, "No, I don't think Tony Blinken was wrong."  
Countries need to consider how to move away from Russian hydrocarbons "as fast as possible," Johnson added.  
Johnson continued, "We're going to work together on making sure that we all have the substitutes and the supplies that we need."
4 hr 22 min ago
21 civilians were killed in Sumy strike, say Ukrainian authorities
From Tim Lister in Kyiv and Olga Voitovych
The death toll from an overnight strike in the northeastern Ukrainian city of Sumy has now risen to 21 civilians, according to the Regional Prosecutor's Office.
The office confirmed "the death of 19 adults and 2 children as a result of an air strike in the city."
"As a result of the bombing, one house was completely destroyed, 16 were partially destroyed. As of 7:00, the bodies of 21 people, including 2 children, were found during an inspection," it added.
Ukraine and Russia agreed Tuesday to one evacuation corridor in Sumy, which has seen sustained Russian attacks and airstrikes in recent days.
2 hr 3 min ago
All Indian students evacuated from Ukrainian city of Sumy 
From CNN's Esha Mitra and Swati Gupta in New Delhi 
Around 700 Indian students stuck in the northeastern Ukrainian city of Sumy are en route to the town of Poltava, around 108 miles away, according to the Indian Ministry of External Affairs.
The news comes as Ukraine and Russia agreed Tuesday to one evacuation corridor in Sumy, which has seen sustained Russian attacks and airstrikes in recent days.
"Happy to inform that we have been able to move out all Indian students from Sumy. They are currently en route to Poltava, from where they will board trains to western Ukraine," ministry spokesperson Arindam Bagchi tweeted Tuesday evening local time, adding that flights were being prepared to repatriate them.
The news comes as Ukraine and Russia agreed Tuesday to one evacuation corridor in Sumy, which has seen sustained Russian attacks and airstrikes in recent days.
The announcement of an evacuation corridor in Sumy comes after a Russian airstrike on an apartment building in the city killed nine civilians, including two children, according to the State Emergency Services (SES) in Ukraine.
"694 Indian students were remaining in Sumy last night, all have now left for Poltava (Ukraine) in buses," Press Trust of India, a news agency owned by multiple Indian newspapers, tweeted Tuesday citing Hardeep Singh Puri, an Indian cabinet minister.
Earlier Monday, the Indian embassy had attempted to evacuate students in buses, however the efforts were suspended after Russian airstrikes continued to hit evacuation corridors. 
The embassy also said Tuesday that 75 Indian sailors stranded in Mykolaiv Port had been evacuated.
2 hr 43 min ago
UK warns Poland that sending fighters to Ukraine may put them into Russia's "direct line of fire"
From CNN's Niamh Kennedy in London
The United Kingdom has warned Poland that sending fighter jets to Ukraine may put them into the "direct line of fire" from Russia. 
Defense Secretary Ben Wallace told Sky News on Tuesday that whilst the UK would "support" a Polish choice to supply Ukraine with fighter jets the country should be aware of Russia's warning of "retribution." 
The news comes a day after the US Ambassador to NATO Julianne Smith told CNN Chief International Anchor Christiane Amanpour that US officials are discussing with the Polish government the potential for Poland to send MiG-29 Soviet-era fighter jets in support of Ukraine. Smith emphasized that this is a "sovereign decision" for Poland take. 
"Poland borders a number of countries such as Belarus, that is an active participant with Russia. And Poland will understand that the choices are not only directly helping Ukraine, which is a good thing, but also may bring them into direct line of fire from countries such as Russia or Belarus," Wallace said. 
He added that it wasn't for him to "second guess" Poland's choice, remarking that there is a "really big responsibility on the shoulders of the President of Poland and the defense minister."
"It is for me as a fellow NATO member to say that we will support Poland and whatever choice she makes," Wallace concluded.
So far, NATO has remained firm in its unwillingness to get directly involved in the conflict beyond supporting Ukraine's resistance to an invasion that is killing innocent civilians, while US officials have made clear that American troops won't engage directly with Russian forces.
Both parties on Friday also pushed back against calls for a no-fly zone to be set up in Ukraine, warning that it could lead to a "full-fledged war in Europe" and saying they're doing what they can to help Ukraine defend itself against Russia's invasion.
CNN's Jeremy Herb and Paul LeBlanc contributed reporting to this post.