Terra has been one of the top-performing crypto ecosystems in the past few weeks. LUNA almost doubled in price since February 20th, when it bottomed out at $49. All eyes are on the Terra – Luna ecosystem, and we've seen many Terra-based altcoins see significant price gains in the past week. Today we're taking a look at Terra World Token (TWD), a top NFT Metaverse project for work built on the Terra blockchain.
What Is Terra World Token (TWD)?
Launching its token in November 2021, Terra World Token is a native governance and utility token for the Terra Office Metaverse. Terra World is a virtual office providing a unique and immersive remote work environment and opportunities for businesses and individuals.
Terra World is designed for employees, entrepreneurs, businessmen, and startup founders looking to create their businesses using the platform and experiment with their ideas in the Metaverse.
Terra World enables users to own NFT LAND within its ecosystem and, on February 26th, closed their first Land Core Sale Round, where the team welcomed 933 new landowners to their Metaverse.
Users can currently check out the Terra World Land marketplace and purchase their own Terra World Land Parcel in the Terra World ecosystem for approximately $2,500.
In addition, check out this demo map of Terra World's Metaverse: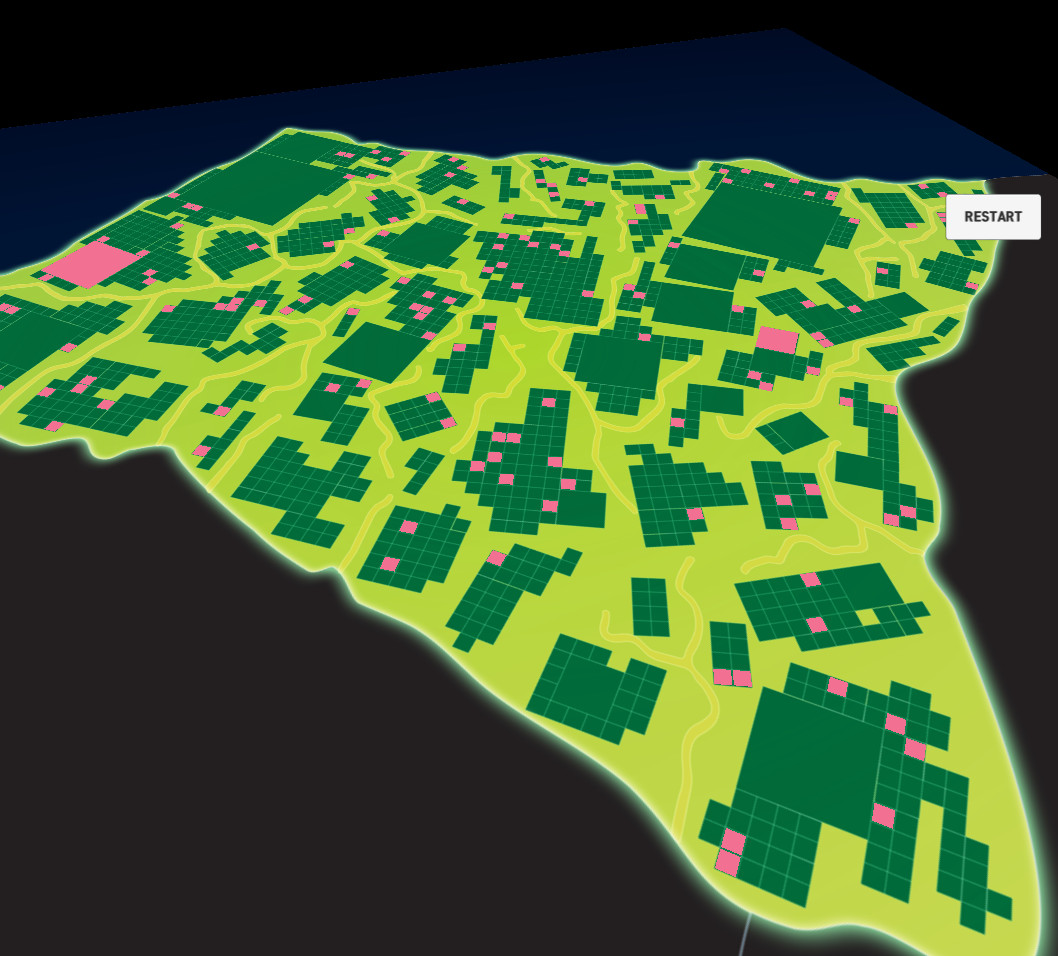 In addition, Terra World currently offers a staking and liquidity dashboard where users can stake TWD and provide liquidity to the ecosystem in return for rewards. At the time of writing, users can receive 0.63% APR on staking TWD and up to 40% APR for providing liquidity to the TWD-UST liquidity pool.
Terra World's Metaverse will feature an immersive 3D experience where users will explore various plots of land similar to how Decentraland and The Sandbox work.
Currently, Terra World is the leading Metaverse project on the Terra – Luna ecosystem, and it could be the next Decentraland.
Terra is a proven blockchain that's been operated for a long time. It features a Delegated Proof-of-Stake network, meaning validators approve transactions and add blocks to the blockchain.
Terra World features the TWD and the MFW tokens. TWD is the native utility and governance tokens on the platform that are traded on the open market. MFW (Metaverse for Work) is essential for various activities throughout the Terra World Metaverse, used for transactions, decorations, real estate, avatars, and more. You can think of MFW as a mining system that provides users with rewards in the form of TWD tokens.
Terra World is looking to empower startup founders to launch businesses in the Metaverse and will provide robust consulting services, with experts sharing best practices and know-how when it comes to launching projects in the Metaverse. Anyone with an idea can enter into an office, claim rewards, and bring their vision to life.
Terra World Token Price & Tokenomics
At the time of writing, Terra World Token is trading at $0.07085 with a 24-hour trading volume of $327k. Its market cap is $12.4 million, with a fully diluted market cap at $177 million.
The Self Reported Circulating Supply for TWD is 185.9 million. The token features deflationary tokenomics to balance out both the supply and demand of the Terra World token economy. Terra World's ecosystem features a method of burning TWD by using a certain amount of revenue generated from job search or social matching services in the ecosystem talent pool.
You can only purchase TWD on Terraswap or ACE. We recommend using Terraswap as most of the trading volume comes from that exchange.
Disclosure: This is not trading or investment advice. Always do your research before buying any Metaverse crypto coins.
---
Also Read:
Top 3 Metaverse Crypto Coins With a Unit Price Below $0.001 (March 2022)
Follow us on Twitter @thevrsoldier to stay updated with the latest Metaverse news!