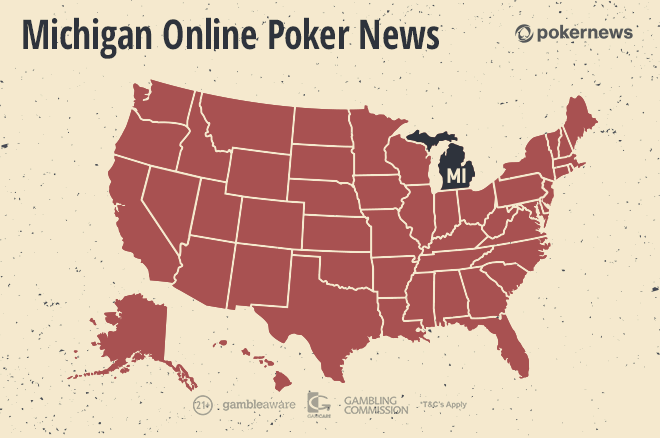 Multistate online poker is finally coming to Michigan as regulators announced on Wednesday that the Wolverine State was admitted to the Multi-State Internet Gaming Agreement (MSIGA). That means Michigan players will soon be competing in a combined pool with players from New Jersey, Nevada and Delaware, a massive victory for shared liquidity in the US.
In a statement Wednesday evening, the Multi-State Internet Gaming Association LLC, a Delaware-based corporation that manages the affairs of states that are a part of the MSIGA, announced that Michigan would be joining "pending full execution of the Agreement by the State of Michigan."
"The Multi-State Internet Gaming Association welcomes Michigan to its ranks, along with its nearly 10 million residents, who can now avail themselves of a full array of interactive gaming among the Association's member states," said Rebecca Satterfield, Manager of the Multi-State Internet Gaming Association LLC and the Internet Gaming Manager for the Delaware Lottery. "The Association continues to be forward thinking and welcomes the interest of additional gaming jurisdictions in becoming party to the Agreement."
Free to Play Slots in the US
The announcement comes just a week after the World Series of Poker (WSOP) launched WSOP MI, bringing the only online poker provider with a shared player pool across US states to Michigan.
While the player pool on WSOP MI has been "ring-fenced" in Michigan during its debut, that will change now that Michigan is a part of the MSIGA. The development could also lead PokerStars and BetMGM Poker, the other two online poker providers in Michigan, to follow suit and combine player pools across states.
Needless to say, Michigan joining the MSIGA is a huge development for the online poker community. With its massive position of 10 million, Michigan's arrival nearly doubles the combined player pool between the four states.
It could also encourage other states with legal online poker but siloed player pools, such as Pennsylvania, to join the multistate compact and further boost shared liquidity in the US.
Michigan
Online Poker is allowed
Online Poker is legal since 2019
Live Poker is allowed
Live Poker is legal since 1999
Online Casino is allowed
Online Casino is legal since 2019
Sports Betting is allowed
Sports Betting is legal since 2019
How Michigan Got Here
Michigan lawmakers legalized online poker in 2019, though the first hand of online poker in the state wasn't dealt until January 2021.
In 2020, Michigan Gov. Gretchen Whitmer signed a law to allow multistate poker, but neither of the providers in the state had entered interstate agreements and therefore no interstate play was offered.
Earlier this year, reports emerged that Whitmer and the Michigan Gaming Control Board (MGCB) were at odds over who should sign an agreement to enter an interstate gaming compact, siginaling the state's interest in doing so.
A few weeks later, the MGCB posted a five-page document that identified "potential tasks and considerations for operators and platform providers" looking to offer multistate internet poker, yet another sign of the state inching toward the MSIGA.
The document listed a three steps must occur for operators or platforms in Michigan to launch multistate online poker: First, the MGCB must have "entered into a multijurisdictional agreement" that is currently in effect; second, all parties involved in the conduct of multistate poker "must have obtained all the necessary licenses and approvals and met all other requirements prescribed by the board"; and third, the board must have "expressly authorized the operator or platform provider to launch multistate poker."
The document includes guidelines for how current online poker operators in Michigan "may introduce a new platform in Michigan to support multistate poker or may migrate its entire poker operation to a platform located in another state," as well as how operators that do not currently offer poker in Michigan may launch multistate poker "via a partnership with a new platform provider, via a new platform provided by an operator's existing platform provider, or as a new game or remote gaming system (RGS) added to an existing platform."
PokerNews will continue to monitor the rollout of multistate online poker in Michigan and other states.