4 hr 37 min ago
US delivered hundreds of Stinger anti-aircraft missiles to Ukraine this week, sources say
From CNN's Kylie Atwood and Zachary Cohen
The US has delivered hundreds of Stinger anti-aircraft missiles to Ukraine for the first time over the last few days, including over 200 on Monday, according to a US official and a congressional source briefed on the matter.  
Earlier this year the US gave the green light to Baltic countries including Lithuania, Latvia and Estonia to send American-made weaponry that they have to Ukraine, including Stingers. But until now the Biden administration had held off on the US providing the Stingers directly to Ukraine, while they have provided other lethal weaponry.
Some members of Congress have been pushing for additional Stinger missiles to be sent to Ukraine for months. The Ukrainians have repeatedly made pleas more weaponry from the US, including anti-aircraft and anti-tank weapons. 
US Secretary of State Tony Blinken told reporters on Wednesday that at this time Ukraine is still able to receive "vital defensive military equipment" that it needs.
More background: There are different generations of Stingers that the US produces and US officials have been cognizant of not providing the newest model to the Ukrainians in case they fall into the hands of the Russians who could steal the US technology.  
Earlier this week German announced that they would deliver 1,000 antitank weapons and 500 Stinger missiles to Ukraine, marking a change in its previous stance of not sending weaponry to Ukraine amid this crisis.
NBC News was first to report on the delivery of US Stingers to Ukraine.
5 hr 3 min ago
Sweden Armed Forces: Russian fighter jets violated Swedish airspace
From CNN's Abby Baggini and Henrik Pettersson
Four Russian fighter jets violated Swedish airspace on Wednesday, according to a statement by the Swedish Armed Forces. 
Two Russian Su-27s and two Russian Su-24s violated Swedish airspace east of the island of Gotland, across the sea. The Swedish Air Force carried out an operation using its Jas 39 Gripen fighter aircrafts "out of emergency preparedness." 
"We were on site to secure territorial integrity and Sweden's borders," said Air Force Chief Carl-Johan Edström. "We have full control of the situation."
Sweden banned Russian aviation in its airspace on Monday, Feb. 28.
"In light of the current situation, we take the incident very seriously. It is an unprofessional and irresponsible action on the part of Russia," Edström said.
5 hr 7 min ago
Kyiv mayor says preliminary reports indicate no one is hurt in blast close to city railway station 
From CNN's Tim Lister in Kyiv  
The mayor of the Ukrainian capital of Kyiv, Vitali Klitschko, has said that preliminary reports suggest there were no casualties in a blast that shattered windows at the city's railway station Wednesday evening. 
But he added: "We are clarifying the details." 
Klitschko said in a Telegram post that despite shelling in a number of Kyiv suburbs Wednesday, "Thank God, there are no casualties." 
"The enemy was trying to breakthrough to our city, but Ukrainian defenders are repulsing the occupiers and defending our capital," he continued.
It's unclear what caused the blast near the station.
An Interior Ministry adviser said the damage was caused by the falling wreckage of a cruise missile after it had been intercepted by Ukrainian air defense systems.  
5 hr 13 min ago
Pentagon: Russian push toward Kyiv, including large military convoy, "remains stalled"
From CNN's Ellie Kaufman
Russian forces moving toward Kyiv in the northern part of Ukraine, including a large Russian military convoy, "remain stalled," Pentagon spokesperson John Kirby said during a briefing at the Pentagon on Wednesday.
"They haven't from our best estimates made any appreciable progress in the last 24-36 hours," Kirby said of the Russian forces moving towards Kyiv. "Nothing very significant."
Kirby said the stall is likely due to a number of factors including Russian forces deliberately "regrouping themselves and reassessing the progress that they have not made and how to make up the lost time," "logistics and sustainment challenges," and "resistance from the Ukrainians," Kirby said.
In the southern part of Ukraine, Russian forces "appear to be experiencing in general less resistance than they are up in the north," Kirby said. Kherson and Mariupol, two major population centers in the south, are still contested, Kirby said.
"Our assessment is, as they get closer to these two population centers down in the south, we believe they are facing more resistance," Kirby said.
5 hr 22 min ago
Damage seen near Kyiv central train station after explosion heard 
From CNN's  Paul P. Murphy 
Video posted online, which CNN has geolocated and verified its authenticity, shows a damaged train platform just outside of Kyiv's central train station following a strike Wednesday evening. 
The damage seen in the video is at the Pivnichna train station, which is located just over 700 feet from Kyiv's central station. Hundreds of refugees attempting to flee the conflict in Ukraine are at the central train station in Kyiv.  
In the video, the damaged building appears to be a ticket station on the train platform. 
The sound of the blast could be heard across the city, according to CNN's team on the ground. 
According to the Ukrainian Interior Ministry, a major heating pipeline in Kyiv was damaged in the strike.  
5 hr 25 min ago
UK "gravely concerned" by "reports of use of cluster munitions" by Russia in Ukraine 
From CNN's Dan Wright and Sugam Pokharel
Britain on Wednesday said it was "gravely concerned" by "reports of the use of cluster munitions" by Russia during its ongoing invasion of Ukraine. 
The UK, which is also the President of the Convention on Cluster Munitions (CCM), said in a statement that it condemns "any use of cluster munitions by any actor, remaining steadfast in our determination to achieve a world entirely free of any use of these weapons."
The convention "was born out of a collective determination to address the humanitarian consequences of these weapons, which have had a devastating impact on civilians in many conflict areas," it added.
The UK called on "all those that continue to use such weapons to cease immediately" and also urged all states that have not yet done so to join the Convention "without delay."
Earlier on Wednesday, US Ambassador to the UN Linda Thomas-Greenfield said Russia was moving banned weaponry into Ukraine.
"We have seen videos of Russian forces moving exceptionally lethal weaponry into Ukraine, which has no place on the battlefield. That includes cluster munitions and vacuum bombs – which are banned under the Geneva Convention," she said.
5 hr 20 min ago
Pentagon: US cancels planned missile test to avoid misunderstanding during "heightened tensions" in Ukraine
From CNN's Ellie Kaufman and Oren Liebermann
US Secretary of Defense Lloyd Austin canceled a planned test of the Minute Man III Intercontinental Ballistic Missile that was initially scheduled to occur this week to avoid "any actions that could be misunderstood or misconstrued" during heightened tensions with Russia, Pentagon spokesperson John Kirby said during a briefing at the Pentagon on Wednesday.  
"In order to demonstrate that we have no intention of engaging in any actions that could be misunderstood or misconstrued, the secretary of defense has directed that our minute man three intercontinental ballistic missile test launch scheduled for this week to be postponed," Kirby said. 
Kirby said the secretary made this decision taking into account the "heightened tensions" caused by the Russian invasion of Ukraine and Russian President Vladimir Putin's announcement earlier this week directing a special alert of Russian nuclear forces. 
Kirby said the US military is taking this step to cancel the ICBM test to "demonstrate" that the US is a "responsible nuclear power."
"This is not a step backwards in our readiness, nor does it imply that we will necessarily cancel other routine activities to ensure a credible nuclear capability," Kirby said.
"We remain confident in our strategic posture as I've said before and our ability to defend the homeland, and our allies and our partners, remains fully intact and ready," he added.
5 hr 30 min ago
French president: "European defense must cross the next step" following Russian invasion of Ukraine 
From CNN's Pierre Meilhan in Atlanta
French President Emmanuel Macron said Wednesday that Europeans "cannot depend on others to defend ourselves."
He added, "European defense must cross the next step," following Russia invasion of Ukraine.
"Europe has entered a new era," Macron said during a televised address from the Elysee Palace as he announced a summit of European heads of state and government that will take place in Versailles on March 10 and 11 to discuss these topics.
5 hr 38 min ago
Secretary of State Blinken: US still open to diplomacy, but there's no path unless Russia pulls back forces
From CNN's Jeremy Herb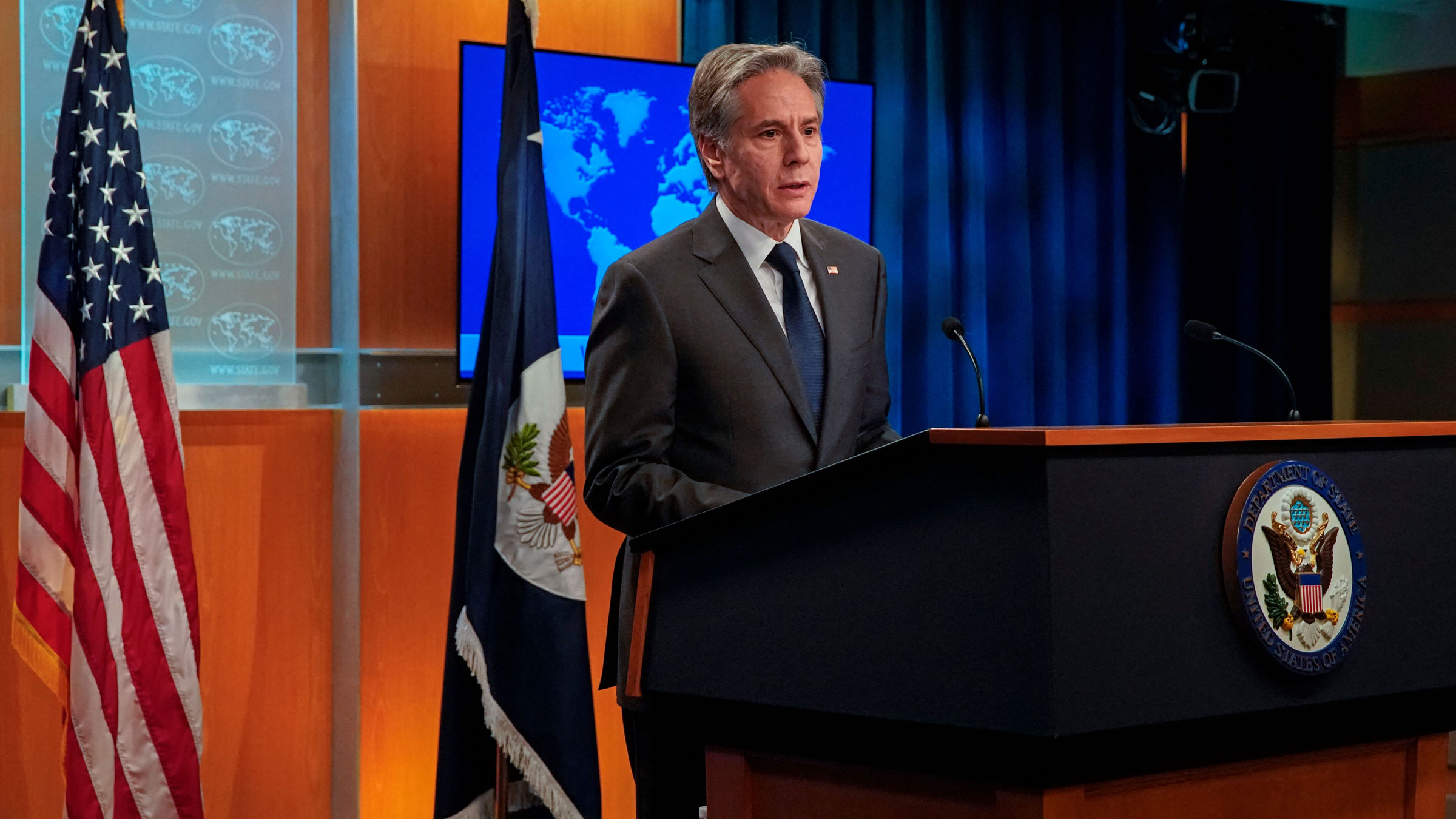 US Secretary of State Antony Blinken said Wednesday that the US remains open to diplomacy with Russia to end the war in Ukraine, but said there's no path unless Russia pulls back its forces.
"We of course remain open to pursuing any reasonable path, but it's very hard to see any path when the bombs are dropping, the planes are flying the tanks are rolling," Blinken told reporters at the State Department. "So de-escalation, pulling back forces, that would open a path of diplomacy."
Blinken added that the US would help Ukraine diplomatically if Kyiv believes there's a path that could end the war, but he noted that Russia often "goes through the pretense of diplomacy" while continuing on its aggressive path, noting the demands Moscow made in its first round of talks with Ukraine were "non-starters." 
"If Ukraine thinks there is a path that would help advance its interests protect it end the war and we can be helpful in that, of course we're fully prepared to do that," Blinken said.
"But we really look to the Ukrainian government to what if anything might make sense. They're engaged in talks with Russia. They had one round, there may be another one, we'll see. But, of course, the demands Russia put on the table were beyond excessive, they were of course non-starters," he said.