15 hr 2 min ago
Zelensky says Russia is preparing to bomb Odessa
From CNN's Alex Hardie in London
Ukrainian President Volodymyr Zelensky has said Russia is preparing to bomb Odessa, a strategically important port city on Ukraine's Black Sea coast.
"Russian people always used to come to Odessa and they only knew warmth and generosity and what's now? Artillery, bombs against Odessa. This will be a war crime. This will be historic crime", Zelensky said in a broadcast address on Facebook.
Switching from speaking Ukrainian to Russian, Zelensky appealed to the Russian people to make a choice "between life and slavery."
People of Russia … this is the time when you can still win over the evil," he said.
"We are Ukrainians. We need peace. We want peace. And for Russian citizens it's not only the fight for peace in Ukraine but for your peace and for your freedom. You used to see it. You knew prosperity…If you will be silent now, then only your poverty will speak for you", Zelensky continued.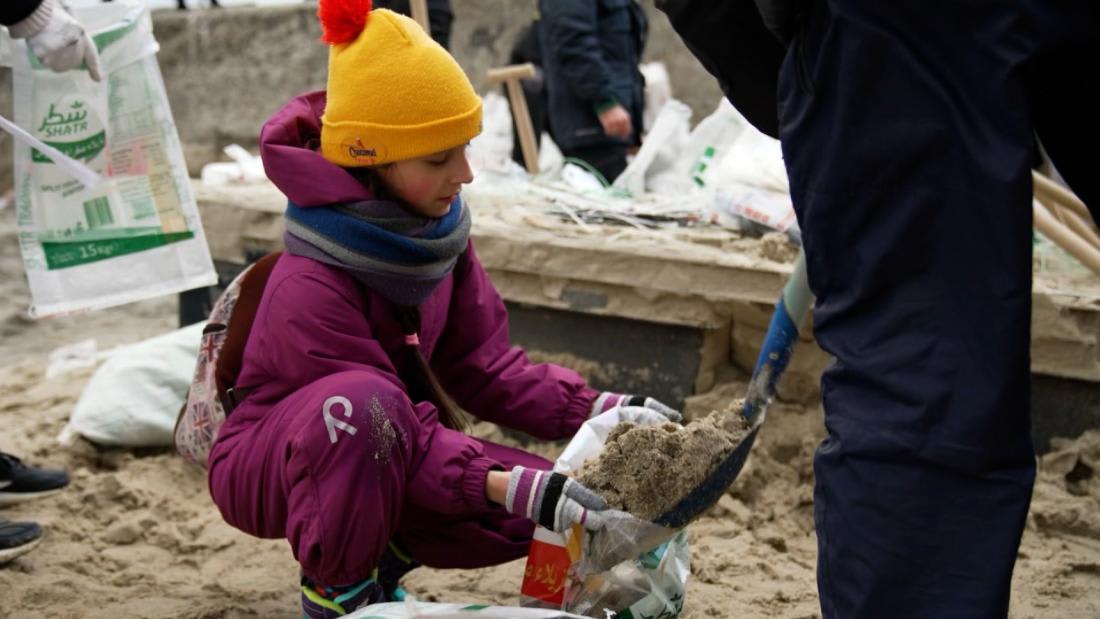 14 hr 50 min ago
"War is madness," says Pope Francis, calling for peace in Ukraine
From CNN's Delia Gallagher in Rome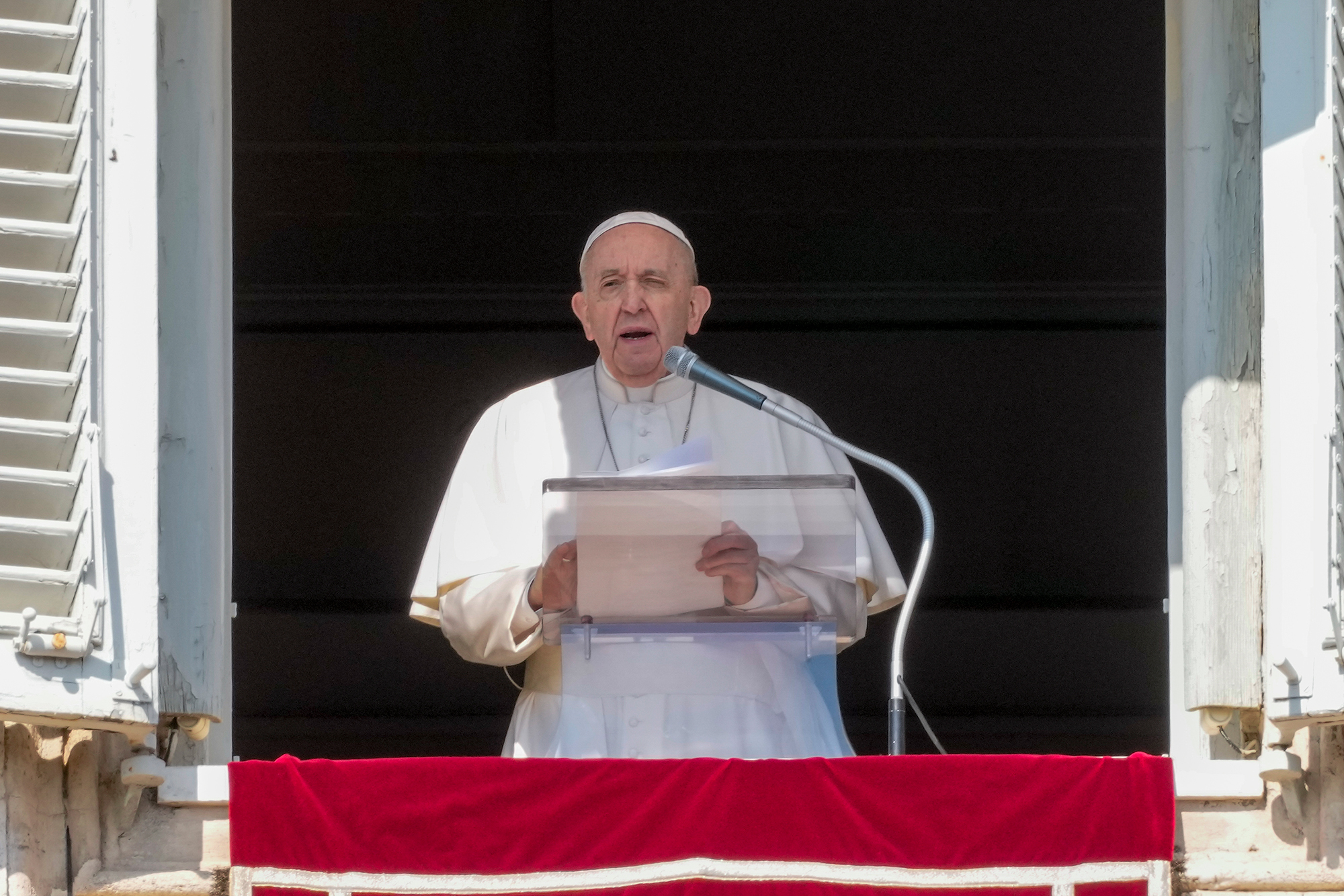 Speaking on Sunday during the Angelus address from his window on St. Peter's Square, Francis said that the Vatican is willing to do "everything" it can for peace in Ukraine.
Francis said he has sent two cardinals to Ukraine to assist humanitarian efforts, "not only as a sign of the presence of the Pope," Francis said, "but of all people who want to say 'war is madness, please stop, look at this cruelty!'"
The Pope called for a "return to respecting international law" and urged that evacuation corridors be opened so civilians can escape the conflict.
In Ukraine a river of blood and tears is flowing," the Pope said. "It is not just a military operation but a war which creates death and destruction!"
Francis also thanked journalists who "risked their lives" to report on the war.
"Thank you brothers and sisters," he said to journalists, "for this service which allows us to be near the drama of the people and to see the cruelty of war."
15 hr 51 min ago
Moldova pledges support for refugees, as it pushes for EU membership
From Colin McCullough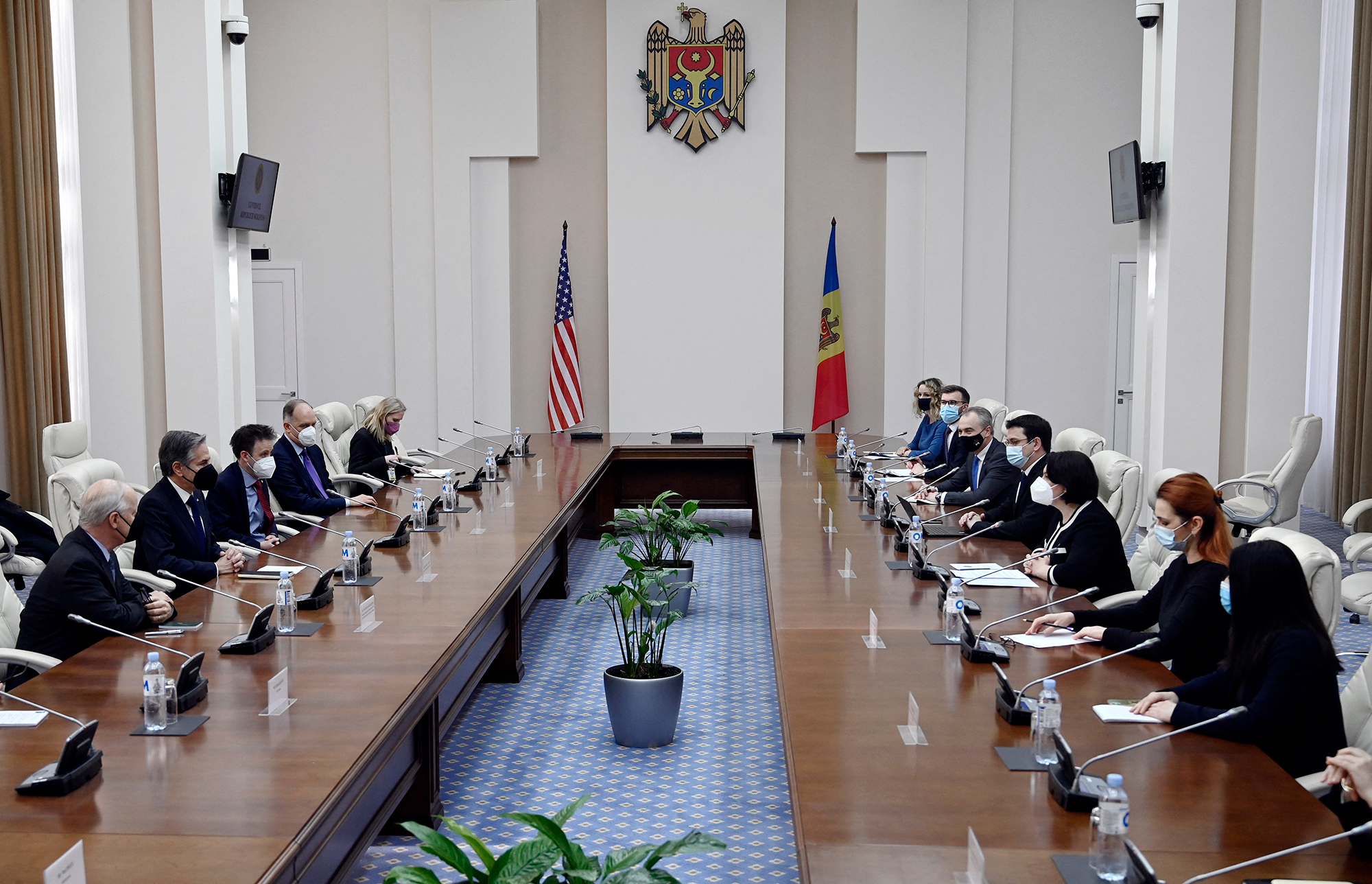 Moldovan Prime Minister Natalia Gavrilita said her country is "firmly committed" to European integration and stressed her desire for the nation to obtain European Union membership.
Gavrilita made the remarks in a news conference with US Secretary of State Antony Blinken in the Moldovan capital of Chisinau. Secretary Blinken is traveling in the country to meet with government officials during the refugee crisis stemming from the Russian invasion of Ukraine.
According to Gavrilita, more than 230,000 people have crossed over the Moldovan border from Ukraine, with 120,000 staying in the country.
"For a small country like Moldova proportionately this is a very large number. And managing such an influx because only been possible because of the extraordinary solidarity shown by every person, every company, every nongovernmental organization. Everybody has come together to host to provide shelter to provide food to provide assistance to those who are fleeing war," she said.
Gavrilita also added that the country was continuing its pursuit of EU membership, saying: "we have submitted our application on the third of March"
"And as we embark on this journey, we know that we can count on the friendship on the strong support with the United States."
16 hr 11 min ago
Russia is targeting populated areas, says UK defense ministry
From Sharon Braithwaite and Eleanor Pickston in London
The UK Ministry of Defense has said that Russia is targeting populated areas in Ukraine, "likely" as an effort to break Ukrainian morale.
"The scale and strength of Ukrainian resistance continues to surprise Russia. It has responded by targeting populated areas in multiple locations, including Kharkiv, Chernihiv and Mariupol," the ministry said in its latest intelligence update on Ukraine Sunday.
"This is likely to represent an effort to break Ukrainian morale," it added.
Russia has previously used similar tactics in Chechnya in 1999 and Syria in 2016, employing both air and ground-based munitions, the ministry added.
"Russian supply lines reportedly continue to be targeted, slowing the rate of advance of their ground forces. There is a realistic possibility that Russia is now attempting to conceal fuel trucks as regular support trucks to minimize losses," the ministry concluded.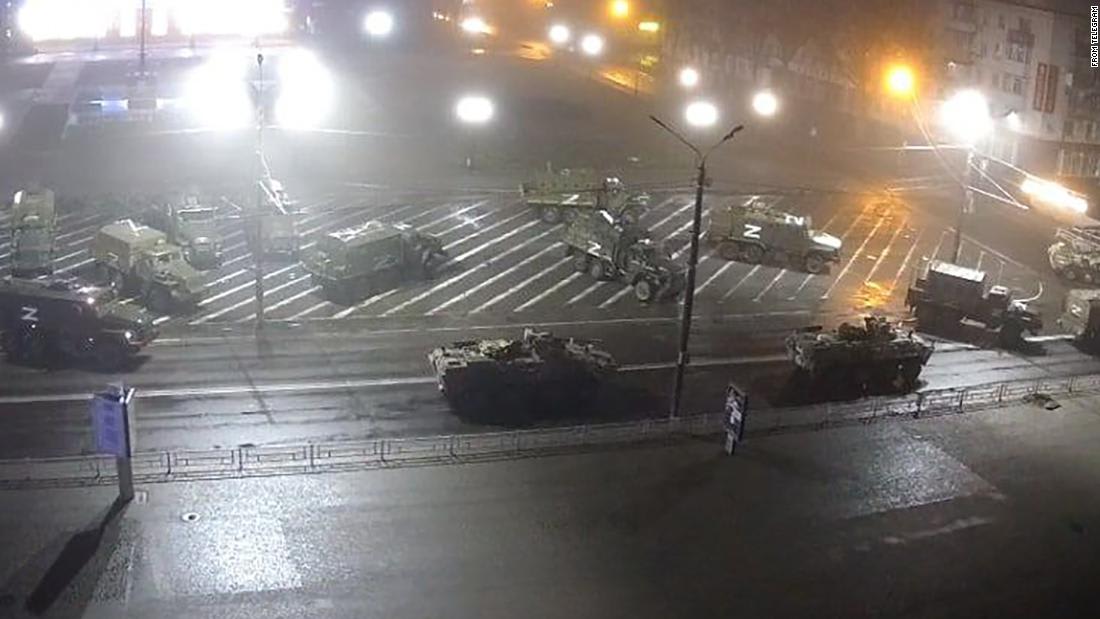 16 hr 19 min ago
Chelsea manager condemns Roman Abramovich chant during tribute to Ukraine
From CNN's George Ramsay
Thomas Tuchel, the manager of Premier League football club Chelsea, said it was "not the moment to give other messages" after fans chanted the name of the club's Russian owner Roman Abramovich during a tribute to Ukraine.
A minute of applause was held ahead of Chelsea's Premier League game against Burnley Saturday, during which chants of Abramovich's name could be heard on a Sky Sports broadcast.
The chants were soon drowned out by boos from the stands.
"If we show solidarity, we show solidarity and we should do it together. We take the knee together, if an important person from other clubs or from our club unfortunately dies, we show a minute of respect," Tuchel told reporters after the game, which Chelsea won 4-0.
"It's not the moment to give other messages, it's a moment to show respect. We do this because this is what we are also as a club, we show respect as a club. We need our fans to commit to this minute of applause in the moment.
"We do it for Ukraine, there is no second opinion about the situation there. They have our thoughts and our support, and we should stand together as a club."
Read the full story: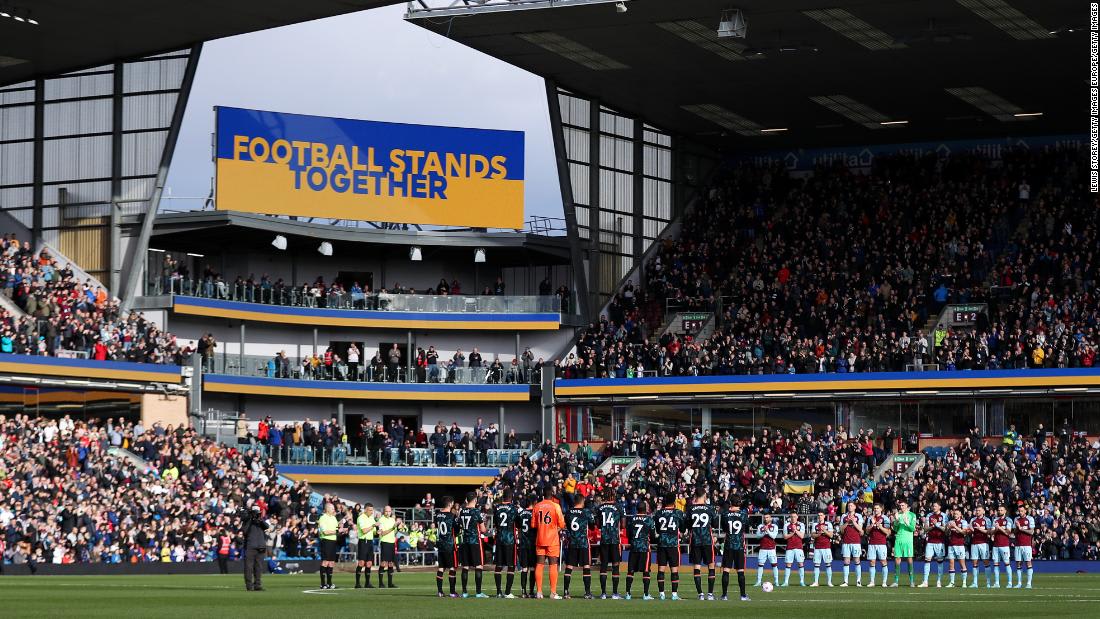 16 hr 30 min ago
Heavy shelling is heard west and northwest of Kyiv, as two children are reported dead
From CNN's Tim Lister
There has been heavy shelling to the west and north-west of Kyiv on Sunday morning. The impact of explosions was heard by CNN teams in Kyiv and in rural areas to the south-west.
Two mortar or artillery shells hit a checkpoint for civilians to cross into Kyiv from the suburb of Irpin. Three people were reported killed, say Ukrainian authorities, including two children.
Social media video showed extensive destruction in Irpin, which is just northwest of Kyiv, on Sunday.
Oleksiy Arestovych, an adviser in the Ukrainian President's Office said: "They [Russian troops] captured Hostomel and Bucha yesterday (Saturday).The Russians entered there.
"They have injured many children and do not allow to evacuate them, despite numerous appeals at the highest state level to provide a "green corridor" from Bucha and Irpin. There are many children in the basements."
"There are basements where 70 children are sitting now and they are not being released. This is a catastrophe both from the humanitarian and, above all, from the moral point of view," Arestovych said, adding that the issue was being discussed "at the highest level with international humanitarian institutions."
Several children have died, according to the Ministry of Health of Ukraine.
16 hr 26 min ago
This Ukrainian maternity hospital is now treating wounded soldiers: "The numbers keep going up"
From CNN's Ivana Kottasová in Kyiv
A maternity hospital not far from the front lines in Kyiv has become a clinic treating wounded soldiers and people injured in Russian strikes.
The head of the hospital, who asked for his name and the name of the facility to remain private over security fears, said many of his staff are now essentially living in the hospital — some with their families — and working around the clock trying to help victims.
"Currently, we have no maternity patients, but we have a lot of wounded local citizens and soldiers. Local people come to us when they need help with food and medicine, and we provide all urgent health care. The numbers are going up and people come 24/7," he said. The hospital head added that that patients including women have been coming in with serious injuries in recent days.
We've had a local woman who died yesterday in our hospital because Russian bomb dropped near here. Some of the injuries are very, very serious," he said.
For now, he said, the hospital is coping, despite normally specializing in maternity care."We are well equipped for now, but the problem is that the number of people who are coming to us is increasing, and it's really a lot of people with serious injuries and we don't have enough staff if the numbers keep going up."
He said the hospital is trying to secure equipment and materials that are intended for treating serious military wounds, something the hospital doesn't normally stock in larger quantities.
We hear the fighting. Yesterday it was a little bit better, today is medium, but the Ukrainian army, I feel, is strong so we feel that it will be safe to stay and help our army," he said.
At the same time, the hospital continues serving its core patients. 20 babies have been born here since the invasion started 10 days ago — all of them safe and healthy.
"They all went either home or traveled to western Ukraine," the hospital's chief said.
16 hr 58 min ago
Kyiv district appeals for help "to survive" amid heavy fighting
From CNN's Tim Lister in Kyiv
A district to the northwest of the Ukrainian capital of Kyiv has issued an urgent appeal for help amid intense shelling by Russian forces.
The district of Bucha has been at the center of fighting for more than a week.
"The enemy continues to shell all quarters in Bucha mercilessly: every day is the struggle for survival," the city council said on Facebook Sunday.
"There is no electricity, heat, communication, internet," it said.
Every day we receive thousands of messages from the residents of Bucha and settlements of the community about the need for food, water, restoration of communications."
It is impossible to deliver humanitarian aid: the community is under siege. We need support to survive! Help us to save the community!" the district urged.
Videos from the area in recent days show extensive damage and the wreckage of military vehicles.
16 hr 58 min ago
"Fastest growing refugee crisis in Europe since World War II": More than 1.5 million people have crossed from Ukraine into neighboring countries
From CNN's Sharon Braithwaite and Nadine Schmidt
More than 1.5 million refugees from Ukraine have crossed into neighboring countries in 10 days, UN refugee agency commissioner Filippo Grandi said Sunday.
In a Twitter post, Grandi called it "the fastest growing refugee crisis in Europe since World War II."
Meanwhile, Germany's interior ministry told CNN that nearly 38,000 people have arrived in the country from Ukraine since the beginning of the Russian invasion on February 24.
German Federal Police registered 37,786 refugees from the war-torn nation as of Sunday, an interior ministry spokesperson told CNN.
However, given the absence of border checks between Poland and Germany, the actual number of incoming people could be significantly higher, the ministry said.
Germany's interior minister Nancy Faeser told German newspaper "Bild am Sonntag" that Germany would host refugees fleeing the war in Ukraine no matter what their nationality.
"We want to save lives. That doesn't depend on the passport," Faeser told the German newspaper.