2022_PORTIMAO_Moto2______Moto2____OFFICIAL_TEST_combined_sessions_9

2022_PORTIMAO_Moto3______Moto3____OFFICIAL_TEST_combined_sessions_9

More, from a press release issued by Dorna:
Acosta smashes the lap record in a show of intent on the Algarve
The rookie sensation heads both the timesheets and a Red Bull KTM Ajo 1-2 as testing concludes in Portugal
Monday, 21 February 2022
If anyone had doubts about the hype surrounding Pedro Acosta (Red Bull KTM Ajo), the time to surrender them is now. It's a new year, new class, new number but the same sensation as the Moto2™ rookie smashed the lap record in testing at the Autodromo Internacional do Algarve, putting in a 1:41.552 to start the Jaws music early for the rest of the field.
In some further 2021 deja vu, Augusto Fernandez made sure it was a Red Bull KTM Ajo 1-2 as he ended Monday 0.154 off his teammate, with Aron Canet (Flexbox HP 40) completing the top three. Fermin Aldeguer (MB Conveyors Speed Up) put the Boscocuro in fourth, 0.563 off the top, with Albert Arenas (GASGAS Aspar Team) for close company.
There were a couple more tenths back to Ai Ogura (Idemitsu Honda Team Asia), with Joe Roberts just 0.011 back as his second season with Italtrans Racing Team gets off to a solid start. Jake Dixon (GASGAS Aspar Team) and Celestino Vietti (Mooney VR46 Racing Team) were next up, with Jorge Navarro (Flexbox HP 40) completing the top ten.
There were a number of crashes including one for Bo Bendsneyder (Pertamina Mandalika SAG Team) that saw the Dutch rider break his collarbone and another for Marcel Schrötter (Liqui Moly Intact GP) that led the German to leave early for a medical check on his hand.
The first session is when Schrötter crashed, as did teammate Jeremy Alcoba, Zonta van den Goorbergh (RW Racing GP) and Arenas. Canet crashed twice. In the second session, Canet, Alcoba and van den Goorbergh crashed again, and Bendsneyder suffered his tumble. Dixon also fell, as did Alessandro Zaccone (Gresini Racing Moto2), Gabriel Rodrigo (Pertamina Mandalika SAG Team) and Aldeguer. Filip Salač (Gresini Racing Moto2) took two tumbles. Sam Lowes (Elf Marc VDS Racing Team) also remained sidelined as he aims to recover from tendonitis in his wrist ahead of the Qatar GP.
After three interesting days on the Algarve, it's now time to look ahead to racing and the Qatar GP. The lights go out in less than two weeks, so check out motogp.com and social media for more interviews and content from Portugal and then get in gear for Moto2™ 2022!
Foggia egdes out Migno with new lap record on Monday
The Italian hits back to end the test fastest, with a new lap record enough to deny Migno by half a tenth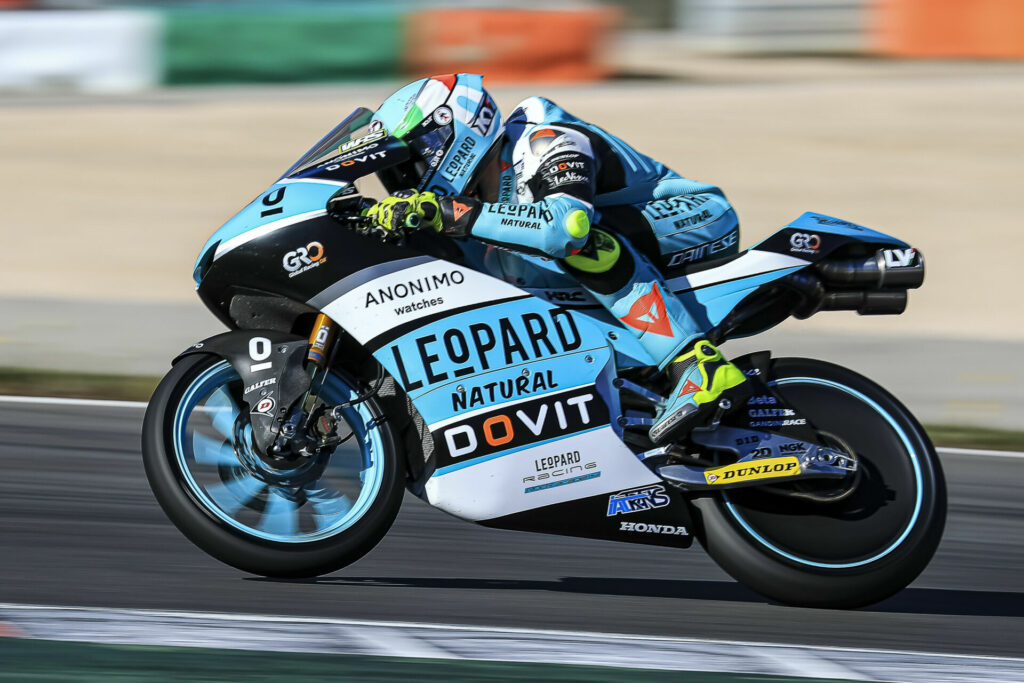 Dennis Foggia lost the top spot to new teammate Tatsuki Suzuki on Sunday, but by the end of Day 3 the Italian was back on top and with a new lap record no less. His 1:46.990 makes him the only rider under the 1:47 barrier as testing concludes in Portugal, although the number 7 was only 0.052 ahead of Andrea Migno (Rivacold Snipers Team) to take the spoils. Sophomore Izan Guevara (GASGAS Aspar Team) completed the top three, 0.334 off the top, with the first session bearing the most speed for the majority of the field, top three included.
Ayumu Sasaki (Sterilgarda Husqvarna Max) was fourth quickest, around half a second off the searing new lap record, with rookie David Muñoz (BOE SKX) for close company in fifth as the Spaniard continued to impress and the timesheets tightened. Day 1 and 2's fastest rider, Tatsuki Suzuki, ended Monday in P6, ahead of Jaume Masia (Red Bull KTM Ajo), Deniz Öncü (Red Bull KTM Tech 3), Sergio Garcia (GASGAS Aspar Team) and Kaito Toba (CIP Green Power). The biggest gap between fifth and tenth was just 0.037, and the tiny deficits continued throughout the field.
Suzuki and Migno crashed in the first session, with Garcia and rookie Brit Scott Ogden (VisionTrack Racing Team) taking tumbles in the second session. There were no fallers in the final outing of the day for Moto3™.
That's a wrap on official testing for the lightweight class, now all there's left to do is race. Foggia will arrive in the Qatar GP as both the 2021 runner up and fastest rider in preseason, but can the Italian get his campaign off to a dream start? Check out interviews and more on motogp.com to get the lowdown from the test, and then strap in for the Qatar GP on the 6th of March!
More, from a press release issued by Marc VDS Racing Team:
Elf Marc VDS Racing Team completes pre-season preparations in Portugal
The Elf Marc VDS Racing Team ended a busy and productive winter testing campaign at the Algarve International Circuit today, with Tony Arbolino putting the finishing touches to his preparations for the start of the 2022 Moto2 World Championship.
Arbolino and teammate Sam Lowes, who was absent from today's action in Portimao with a recurring tendonitis issue in his left wrist, will return to track action on March 4 in Qatar for the opening Free Practice session of 2022 ahead of the much anticipated first race two days later.
Tony Arbolino #14
Arbolino's constant progression throughout the entire pre-season continued in impressive fashion today, with additional chassis set-up tweaks allowing him to gain more stability in high-speed corners.
A busy final day included plans to complete a full 23-lap race simulation and the Italian was setting a fast and consistent pace when his long run was unfortunately interrupted by a red flag.
Arbolino did get chance to assess Dunlop's soft rear tyre option but rather than attack hard for a fast time he preferred to work on the balance of his Kalex machine with the extra grip available.
"We go to Qatar optimistic we can be competitive"
"We have worked incredibly hard over these three days in Portimao, and we made a lot of changes to the bike to find our ideal base set-up heading to the first race in Qatar. The crew really had to work so hard but I'm sure this will be rewarded when we go racing. We have understood a lot of things about our package at this test and we also found solutions to some of our problems, so we go to Qatar optimistic that we can be competitive. If we continue to work in the way we have done during winter testing then we can achieve some great results together this season. My crew and I go to Qatar fully motivated to show our best potential in the first race."
More, from a press release issued by KTM Factory Racing Tech3:
Red Bull KTM Tech3 Completes Portimao Test and is More than Ever Ready for New Season
The preseason is coming to an end for the Red Bull KTM Tech3 team after completing three days of testing in Portimao, in addition to two private sessions held in Valencia and Jerez earlier this month. Both Deniz Oncu and Adrian Fernandez were able to finalize their preparations for the 2022 season, set to start in Qatar on March 6.
Following his crash during the second session yesterday, Deniz was declared fit to ride this morning for the final day. Although his left ankle has been painful, he was brave enough to be willing to get on the bike this morning and finish the testing programme started with his crew. With excellent track conditions today, the Turkish rider, who is entering the new season as a championship contender, significantly improved his lap-time this morning to 1'47.659. Over the last three days, the team tested different bike settings in order to find a perfect fit to the rider's style, and Deniz is confident that some positive information came out of it. It is now time to go home and rest before starting his third season in the Moto3 class.
Our new recruit, Adrian Fernandez, leaves Portugal feeling very positive and happy about his new environnement. Indeed, Pitito seems to be settling well with his new team and his new bike. Over the last three days, he registered 139 laps and we saw improvement day after day. Together with his crew, the aim was to find a good set-up for Adrian to feel comfortable in order to reach his potential, do fast laps and get a good race pace. This morning, he got very close to 1'47, reaching his best-lap time in 1'48.074. Just like his teammate, it is now time to go home and get some rest before starting his first season with the Red Bull KTM Tech3 family.
Deniz Oncu
Best-Lap Time: 1'47.659
Cumulated Day 1 + Day 2 + Day 3 Laps: 111
"We finished three days of testing here in Portimao before the first race in Qatar. We have tried a lot of different things on the bike with the team, and have found some really good set-ups to fit my riding style. However, these last three days have been tough for me but my injury is not so bad. I will now go home to recover in order to get ready for Qatar next week."
Adrian Fernandez
Best-Lap Time: 1'48.074
Cumulated Day 1 + Day 2 + Day 3 Laps: 139
"These three days in Portimao have been very good. I feel good on the bike, with the team, and I am looking forward to starting racing in Qatar. Today was a good day, in particular because I was able to improve my pace, but what is important is the race pace, and we will see what I can do in Qatar. Time to go home to rest before heading to Qatar."
Hervé Poncharal
Team Manager
"It has been an intense three days of testing here in Portimao for the Red Bull KTM Tech3 team. The weather was good to us and we were able to get good track conditions, although Day 1 was a bit windy. I think that both Deniz and Adrian worked really hard and I believe that we are ready for Qatar. We wanted to leave Portugal with a good amount of laps under our belt, a good feeling from both riders with their crews and their bikes.
Unfortunately for Deniz, he had a quite heavy crash during the second session of Day 2. Luckily, no big damage, but he has twisted his left ankle and is currently in a lot of pain. He decided very bravely to continue to ride on Day 3 and significantly improved his lap-time without pushing to the limits too much. Deniz is feeling really good on the bike, he made some clear improvements over the winter both on himself and on his riding style, and I believe that he is set to have an amazing 2022 season. He will now fly back home to treat his foot, get some rest, and go to Qatar fully fit and ready to go.
From Adrian's side, it feels that he is now feeling comfortable with his new environnement. His riding style and technical feedback improved everyday, as well as the lap times, and we feel that there is plenty more to come. He has a big smile on his face and is looking forward to the start of the new season, and I am really happy about this because I want him to feel at home with us.
Our team will now have a few days off to rest and reflect on the preseason, before traveling to Qatar to start a very long, but exciting, new season."
More, from a press release issued by BOÉ SKX Team:
BOÉ SKX finishes pre-season testing among the best in Moto3
The Spanish team finishes the pre-season with a great improvement of its riders in the three days of official Moto3 tests, in which David Muñoz was the best rookie, finishing fifth and Ana Carrasco was twenty-ninth with a good progression.
The official pre-season tests for Moto2 and Moto3 have come to an end at the Portimão circuit with a great performance from BOÉ SKX. The team directed by José Ángel Gutiérrez Boé concludes an intense preseason that began with four days of private testing in Jerez, to which are added these three days of official testing at the Portuguese track.
These three days have been really positive for the whole team with a clear improvement day after day of the two BOÉ SKX riders, a test in which for the first time in 2022 all the riders of the grid have seen each other face to face on track.
As planned, the team clocked up a lot of kilometres. In total, the two BOÉ SKX riders completed 323 laps during these days, with 159 laps for David Muñoz and 164 in the case of Ana Carrasco. In addition, none of the riders had any crashes or technical problems, so these tests have been very positive for the whole team.
One of the most outstanding riders of the test was David Muñoz. The Andalusian, who is the youngest rider on the grid, has surprised many with a great adaptation from the first moment. Muñoz has been consistently among the top ten fastest in each session, and showed his intentions from the first day with the third fastest time of the day (1:48.858). On Sunday he was again very consistent with a very competitive pace. He also improved his time from the previous day with a fastest lap of 1:48.333, which put him ninth in the standings. David Muñoz continued in great form on the last day, setting his best time of the test with a 1:47.618, a lap that finished the three days in fifth place overall and with which he has become the best rookie of the test.
Ana Carrasco continues with her adaptation period and was also very consistent, a hard work that paid off with better times and feelings in every outing on track. While on the first day Carrasco's best lap was 1:52.503, on the second day she improved by more than two seconds. Even on the third and final day he managed to lower the time to 1:49.293, a time he did on the last lap of the last session riding alone and that has been enough for him to finish in twenty-ninth position but, above all, to gain more confidence with this new bike.
David Muñoz – P5 (1:47.618): "I'm very happy with how everything went. It was the first time I competed against all the riders in the World Championship, many of them have a lot of experience, and to finish in the top five is a great result for me. I made a big step forward, I didn't know where I was really going to be. Every day we competed well, the first day we were third, on Sunday in the last run after some adjustments we improved again and today was a perfect day for me. I am very happy with the work of the whole team, I want to thank them and all the people who support me".
Ana Carrasco – P29 (1:49.293): "I'm quite happy, although we still have a lot of work to do. From when I started three weeks ago with this bike until now we have made a big step forward. Last week in Jerez I was able to ride fast and here I have improved day by day. My goal is to keep closing the gap to the fastest riders, I think we are doing that, but we have to keep working. What we are really lacking are kilometres and time with the bike, we have to keep learning, today I finished the day wanting to have another run because I think I could keep improving because the team is helping me to understand how to get a good performance. The lap time I think it could have been better, but we have to be happy because we started quite far off on the first day and now we are much closer. I'm looking forward to keep improving".
José Ángel Guiérrez Boé: "We are very happy with the three days of testing. We have prepared very well for this new season and I am satisfied with the work of the whole team. David Muñoz has surprised more than one by being constantly among the fastest. We know that he is very talented and hard-working, and these results support our confidence in him. In the case of Ana, we are very happy with the progress she is making. The result should not deceive us, Ana is still in a period of adaptation to this new bike and with the great work of the whole team she has been able to improve in every outing. She feels much more comfortable and we are looking forward to continue seeing her grow with us. With these tests and the ones in Jerez we have been working many days in a row, and the team has performed exceptionally well. We are ready and excited".
With the conclusion of these tests, the next stop for the team will be the Qatar Grand Prix, to be held over the weekend of 5-6 March.
More, from a press release issued by Mooney VR46 Racing Team:
OFFICIAL PORTIMAO TEST: VIETTI RAMUS IN THE SLIP STREAM OF THE FASTEST GUYS. STEPS FORWARD FOR ANTONELLI
The Mooney VR46 Racing Team duo closes the pre-season respectively in P9 and P23 in the combined standings of the three days
Portimao (Portugal), February 21st 2022 – At the end after seven days of testing between Spain and Portugal the pre season of the Moto2 couple of the Mooney VR46 Racing Team. Challenging sessions but a closing in crescendo before leaving for Qatar with Celestino Vietti Ramus in P9 and Niccoló Antonelli 23rd.
Over 160 laps for Celestino who in FP7 manages to break the wall of 1.42 before trying a race simulation in his final run (FP8 ndr) to better understand the new 2022 Kalex over the long distances. Absolutely positive feelings and a best lap time of 1.42.512.
Gradual but constant growth for Niccolò, 121 total laps, who today signs a best lap time of 1.43.507. He was able to improve his personal crono by over two seconds during the three days.
For both, together with their teammates of the MotoGP Team, Luca Marini and Marco Bezzecchi, the next appointment scheduled is the presentation of the new livery of the Mooney VR46 Racing Team live on Facebook and Youtube on February 24th at 12.00 pm CET before leaving for Qatar GP, the first race of 2022.
Celestino Vietti #13 
I'm looking forward to Qatar three challenging days at the end of a five-day session if we also count Jerez. We finished positively, each session I made a step forward and the Day3 was particularly good in several respects. We are not at 100% yet but we continue to work in this direction towards the first race of the season, on one of my favorite tracks.
Niccolo Antonelli #28
Overall we have to be happy with the step forward we made even though I would have liked to have done more. The first day here at Portimao was a bit complicated, I have struggled a lot, but then we managed to reset and close with a good final lap time. We continue like this for Qatar and the debut in the new category. I can't wait to show you the new liveries the next week!
Luca Brivio
Team Manager
Three intense days of work where we continued to know the new Kalex and try different solutions for the upcoming season. We continued the Jerez program, we are happy with what we have done, especially Celestino for the nice step forward in the Day3 on the race simulation. Niccolò did a good job too, we must consider that he is a Rookie and is still taking measurements with the new power of the bike. We can't wait to reveal the new liveries and then leaving for Qatar.
More, from a press release issued by Yamaha VR46 Master Camp Team:
YAMAHA VR46 MASTER CAMP TEAM LEVEL UP AT PORTIMAO TEST
The Yamaha VR46 Master Camp Team enjoyed an exciting debut at the roller coaster track that is the Autódromo Internacional do Algarve. After three full-on days at the Portimao Moto2 & Moto3 Official Test, rookie riders Manuel Gonzalez and Keminth Kubo finished in 25th and 26th place respectively on Day 3.
Portimao (Portugal), 21st February 2022
Following their online team launch on February 18, the Yamaha VR46 Master Camp Team have sprung into action at the Autódromo Internacional do Algarve for the Portimao Moto2 & Moto3 Official Test, held from February 19-21. New entries Manuel Gonzalez and Keminth Kubo made the most of their time on track, soaking up as much information and experience as possible during their official debut as Moto2 World Championship riders. They finished in 25th and 26th place in the combined timesheets on Day 3.
Coming from the Supersport series, Gonzalez used the Portimao Test to adapt to his new bike. Even windy conditions on Day 1 couldn't keep the Spanish talent from finishing in an encouraging 18th place with a 1'44.746s fastest lap. On the sunny second day he found an improvement of nearly one second. The number-18 rider continued working hard to understand the bike better on the final day of testing, completing 37 more laps to come to a total of 152 laps. A 1'43.593s earned him 25th place in the combined Day 3 timesheets, 2.041s from first.
Kubo made good steps during the first official test. He has three years of CEV Moto2 experience and used it to jump from a best time of 1'45.699s on Day 1 to a 1'44.481s on Day 2. Working closely together with his crew chief Alessandro Finelli, the technical solutions found on the second day of testing also led to positive results on the third day. After riding 36 laps today and 146 in total, he completed the test with a best time of 1'43.706s, for 26th place, 2.154s from first.
GELETE NIETO
SPORTS DIRECTOR
Our work in Portimao is done. It was a 'normal test'. Our team is still brand new, so we didn't really look too much at the times. It's still too early for that. We need to understand the bike first, and also all the crew members need to adjust first because we are at the start of our work together as a team. But I think that the method of the team is correct. The riders did technical debriefs with the crew chiefs every day after the sessions. They liked that a lot because it's a good opportunity to share information of course, but also to get to know each other better. I think the alignment in the team is very nice. I think we will be improving race by race, and we will try our best at the upcoming round in Qatar.
Manu's test was good because he understands his bike better now. For sure, it's a difficult transition for him from Supersport to the Moto2 class. These three days were probably not the time for him to fully understand everything. We need to improve a lot of things, but that's to be expected at the start of his journey.
I think Kubo will go home happy because he improved a lot on the second and third day of testing. He is always improving, and he did a good test. But obviously he also needs to learn a lot because we are far from the top now. I think that the results will become better step by step. His feeling with the bike is good, and the bike is not moving too much.
Manu and Kubo did a lot of laps here, and that's very important for their learning process. This category is very difficult. It's the most difficult class to get the position on the bike right. For this reason, these three days of testing were very important, and luckily the weather was so nice! We are ready for the first race.
MANUEL GONZALEZ
25th / 1'43.593s / +2.041
It has been a very difficult day for us. We changed a lot of things on the bike, but the problem was still there and still big. I thought that at this point I could go very fast with this bike, and to me it's a shame it's not happening because this problem is holding me back. Luca Capocchiano tried to help me a lot, but I feel the same also with big changes. Now the test is over, I will put my mind to the Qatar GP, and I can be positive because I am happy that we tried a lot. I'm learning how to adapt to this bike.
KEMINTH KUBO
26th / 1'43.706s / +2.154
I'm happy about these tests and about today. I did really many laps, and in the morning we improved the lap time compared to yesterday. We changed the setting of the bike a bit, and we continued to improve also in the afternoon. Finally, the gap gets closer to the top, and I'm satisfied about today's results. Now it's almost time to go to Qatar. It will be the first real GP for me, and I'm quite nervous!
More, from a press release issued by QJMotor Avintia Racing:
QJMOTOR AVINTIA RACING CONCLUDES THE PORTIMAO OFFICIAL TEST
Portimao (Portugal), 21st February 2022
QJMotor Avintia Racing has finished the Official Tests in Portimao with very good feelings ahead of the start of the season on March 4th at the Qatar International Circuit.
During these three days of testing, both riders have continued their adaptation work, both to the bike and to the team. Matteo Bertelle already knew the track, unlike Elia Bartolini who this was the first time he rode on the Portuguese track.
Bartolini, despite suffering a small crash on the first day, rode very steadily during the three tests days, managing to stop the clock at 1'48.328. For his part, Bertelle set a time of 1'48.577 in some very beneficial tests for him ahead of the first race of the championship.
On March 4th, 5th and 6th, the inaugural Grand Prix of the season will take place at the Qatar International Circuit.
#23 ELIA BARTOLINI – 1'48.328
"The test has gone quite well, we have worked very well with the team. I am happy with the work done since we have continued testing things, even so I am happy with the result, despite the fact that this last day I have not managed to improve my time I'm happy with the line of work we've been carrying out. I've managed to maintain a good position in the final classification and I'm already looking forward to the race in Qatar."
#18 MATTHEW BERTELLE – 1'48.577
"The test went quite well, fortunately we were able to ride as my wrist hurt a bit on the first day. We worked very well with the team and we leave Portimao happy and eager to start the season in Qatar."
More, from a press release issued by Italtrans Racing Team:
Italtrans Racing Team completes positive Portimao Test
Everything is set for the new 2022 season.
After the usual winter break, the spotlights have once again turned on the MotoGP World Championship. Italtrans Racing Team took to the track for the official Irta testing in Portimao, Portugal, before the Grand Prix of Qatar, scheduled on 4-5-6 March in Doha.
Lorenzo Dalla Porta and Joe Roberts had the opportunity to get more confidence with their Kalex, after the several technical innovations the team made in the months of stop.
With both riders the results are more than positive.
Roberts confirmed to be one of the fastest in the category, finishing the three days of testing 4th, 5th and 7th, with a best time of 1'42"187.
Dalla Porta also had a very positive feeling, constantly improving his times, finishing 13th on Saturday and Sunday and 14th in the last session, with a best lap time of 1'42"992.
Lorenzo Dalla Porta #19:
"We made some changes to the bike compared to last year and gathered some important data. We go to Qatar ready and aware that we can do well: my shoulder has improved a lot and I'll be ready to give my best".
 
Joe Roberts #16:
"Positive test for the team. We all work hard, trying new things on the bike in different direction. The pace is good and I feel really confident and excited for Qatar. I can't wait to start the season".
Franco Brugnara – Lorenzo Dalla Porta's Crew Chief:
"It was a positive test despite Lorenzo is still not at his best. He ride well at Portimao, showing tenacity and determination. Now he has a few more days to recover before moving to Qatar".
Giovanni Sandi – Joe Roberts' Crew Chief:
"I'm happy with the way the team worked with Joe over the last few days: he has been consistent, calm and quiet, showing all his qualities. We started off on the right foot and I'm confident that we will maintain this pace".