The Montana Cowgirls Association held its 62nd Annual Convention at the Holiday Inn in Great Falls on a recent Saturday in the Aronson Room.  The Montana Cowgirls Association Creed, written by the late Lola Shelton Kraue, a Great Falls writer, teacher, and horsewoman, reads as follows: "We, The Montana Cowgirls Association, composed of women of Montana, dedicated ourselves to perpetuate the memory of the invaluable contribution made by the members of our sex toward the development of this state.  We wish to record for prosperity the biographies of individuals so that they will not be forgotten with the passing of time.  For ourselves, we wish to record and keep alive the code of honor of the Old West, and sponsor activities that will preserve the Western ideas and ideals.  To this end we set our heart and our hands."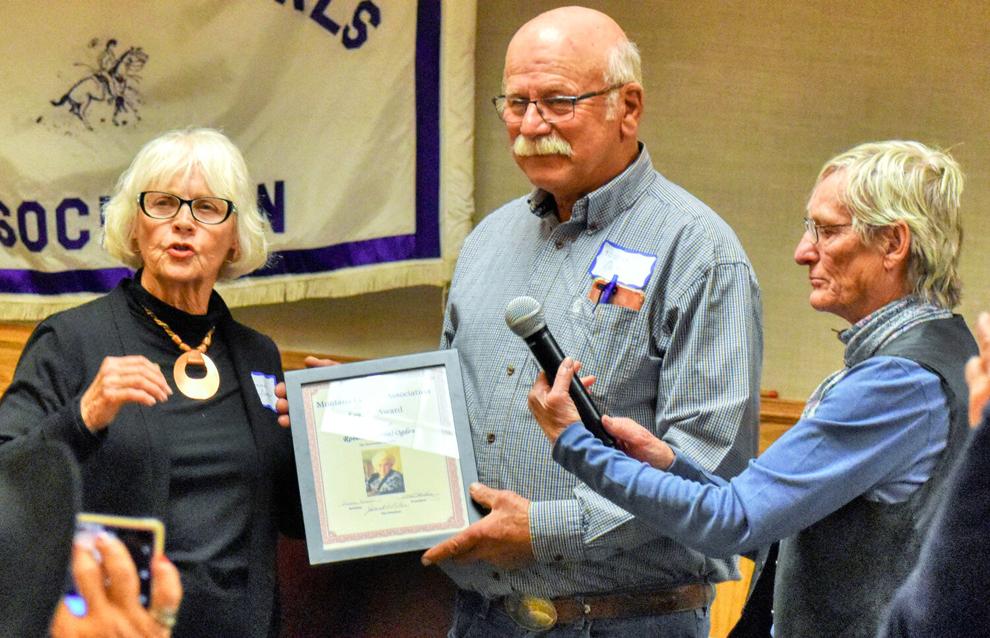 Following a delicious luncheon with musical entertainment provided by Tom Earl and Dale Ellis (The Short and The Tall), the Convention got down to the business at hand.  After the welcoming comments made by outgoing President Ruth Mortag,  there was an invocation, followed by a reading of the Cowgirl Creed.  Donna Dugas then came to the podium to read the story of this year's recipient of the Legacy Award, a new category added for the first time in the Cowgirls long history.   The Legacy Award, honoring Roberta "Bertie" Rose (Deardorff) Ogden was presented to her son Rowan, as the rest of her children, grandchildren, and great-grandchildren looked on.  "Bertie", a former Cascade area woman, was a lifetime member of the Cascade American Legion Auxiliary, Cascade Eastern Star, Smith River Home Dem Club, and Cascade County Cowbelles.  She passed away on August 2, 2020, at the age of 99.
This presentation was followed by the Installation of Officers. 
Stevie Neuman, a former Miss Montana, introduced the new officers:  Linda Yurek (Correspondent), Ruth Mortag, (Board Member), Donna Dugas (Historian), Janice Thomas (Treasurer), Bev Caldwell (Secretary), Darlene Larson (Vice President), and Marge Pribyl (President).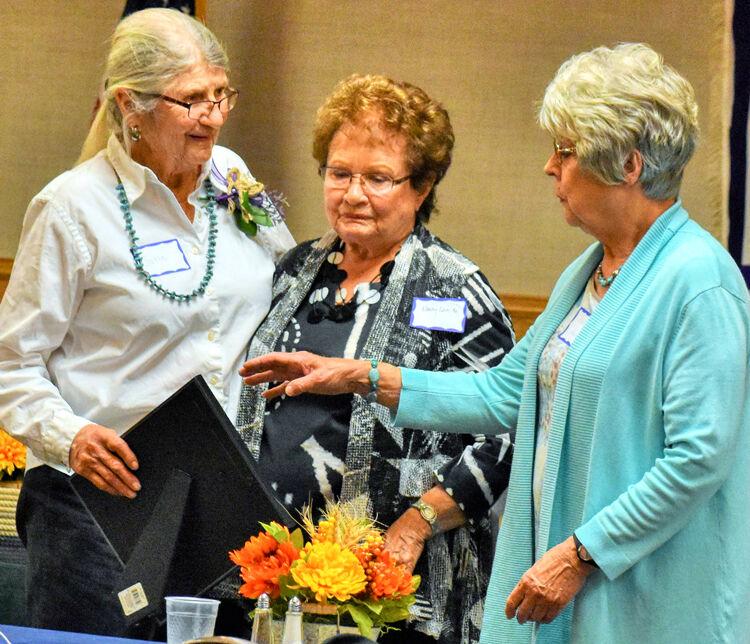 The Heritage Award was presented to another Montana girl, Susan Mary Burggraff Melaney. "Susie" was born and raised on a ranch located on the south fork of the Dearborn River in Lewis and Clark County.  In 1958, she was the Montana High School Rodeo All-Around Champion, and while at Montana State University in Bozeman in 1962, she competed in college rodeos and was named National College Rodeo All-Around Champion.  In 2015, her whole family was honored when they were presented with the Montana Pro Rodeo Hall of Fame "Western Heritage Award."  This award is given to a Montana family that has contributed to rodeo and the western way of life.  Susie and her husband Chuck Melaney, a former saddle bronc rider from Harlowton, live in the Wolf Creek area.