44 min ago
Ukraine Defense Ministry says it destroyed 20 Russian vehicles near Hostomel Air Base
From Celine Alkhaldi, Paul Murphy and Tim Lister
The Ukrainian Defense Ministry said it destroyed a total of 20 Russian military vehicles near the Hostomel Air Base on Thursday.
Videos posted to social media show Ukrainian soldiers walking by damaged and burning vehicles marked with the V sign that suggests they were among Russian forces that came from Belarus. 
The start of the 40+ mile convoy, identified on satellite images, was just north of the Hostomel Air Base.
CNN has geolocated and verified the authenticity of the videos to an area about five miles away from the Hostomel airfield, which was reported captured by Russian forces on Feb. 24.
The Defense Ministry's Twitter account says: "In total, during the day, special forces destroyed 20 enemy combat vehicles in Hostomel."
"The battle is being waged by a combined group of special forces led by the GUR of the Ukrainian defense ministry and local resistance groups," the tweet said.
1 hr 14 min ago
Kherson mayor calls for looting to stop
From CNN's Mariya Knight in Atlanta
The mayor of the Ukrainian city of Kherson Ihor Kolykhaiev called on people to stop looting and stealing food supplies Thursday.
The "city needs food and industrial products. This is especially for the most unprotected layers of the population. I appeal to all supermarket owners, big stores, warehouses, food stores, and anyone who finds this message useful. The city is ready to take control of the distribution of your remaining products. We guarantee that it will reach where it is now most expected — hospitals, orphanages, pensioners, needy, families with many children, social categories, etc," Kolykhaiev said in a Facebook post.
Meanwhile, Yaroslav Kontsevyi, a Kherson resident, tells CNN that Russian occupants have placed checkpoints and sniper points in key places of the city.
Kontsevyi says the Russian occupants are stopping civilian Ukrainian men and asking them if they are going to fight on the Russian or Ukrainian side in case of mobilization.
1 hr 18 min ago
Former Russian foreign minister: War in Ukraine "a barbaric act"
From CNN's Arnaud Siad
Former Russian Foreign Minister Andrei Kozyrev has called the war in Ukraine "barbaric" in an interview with CNN on Thursday.  
In an interview with CNN's Christiane Amanpour, Kozyrev said, "It's a barbaric act. Whether I could imagine it when I was the foreign minister, it was completely out of question."
"But later on, I started to understand that they are going down the hill, so to say, and they feel impunity, both at home and abroad. And that's kind of increased the appetite unfortunately, not for building Russia. Now they are destroying the future of all brotherly people with this fratricidal war," he added.
Kozyrev also said sanctions from the West against Russia "should start to target the decision-makers or executers of those decision-makers in the government. 
He cautioned that sanctions targeting Russian President Vladimir Putin and Foreign Minister Sergey Lavrov are "like doing almost nothing — because nothing, I think, is in their names … You can't find their assets. It's all [with] other people."
On Tuesday, Kozyrev took to Twitter calling on all Russian diplomats to resign from their posts in protest of Russia's ongoing invasion of Ukraine. 
Kozyrev was the first foreign minister of Russia under Boris Yeltsin after the dissolution of the Soviet Union.
1 hr 21 min ago
US military establishes communications line with Russia to avoid any incidents near Ukraine
From CNN's Barbara Starr and Oren Liebermann
The US and Russia have established communications channel where the two sides can notify each other of any potential operations that may be in close proximity to avoid any possible miscalculations near Ukraine.
"The Department of the Defense recently established a deconfliction line with the Russian Ministry of Defense on March 1 for the purposes of preventing miscalculation, military incidents, and escalation," a senior US defense official said in a statement. "The United States retains a number of channels to discuss critical security issues with the Russians during a contingency or emergency." 
The communications line is basically an exchange of phone numbers between both sides for quick access. The US side will be run out of the US European Command's operations center in Stuttgart, Germany, while the Russian side is expected to be coordinated out of the Ministry of Defense in Moscow, a second senior defense official said. 
The US had wanted a communications channel because US and Russian troops are now operating on the so-called eastern flank close to Ukraine and Belarus airspace where Russian forces are staging and attacking.
The second official did not know what events would specifically trigger a phone call on either side, but the overall idea is to ensure "we can reduce the risk of miscalculation and potential misunderstanding" given the potential proximity of forces. It was also not immediately clear to what extent NATO aircraft would be included in the agreement. It is also unclear if US and Russian ships are included.               
Air operations are particularly concerned because of the high speed and relatively short distances at which encounters could occur given Russian aircraft are operating close to the areas where US troops are in Poland, Romania and the Baltic nations.    
The establishment of the agreement is particularly noteworthy because until now Pentagon officials have said they have not had any direct communications with Russian counterparts since the invasion. 
There had been an effort to establish the communications line since late last month. US Defense Secretary Lloyd Austin last spoke with Russian Minister of Defense Sergey Shoygu on Feb.18. The two also spoke one week earlier. Joint Chiefs Chairman Gen. Mark Milley last spoke to the Chief of Russian General Staff Gen. Valery Gerasimov on Feb. 11.
The US has specifically rejected a no-fly zone over Ukraine saying it would put US pilots into a combat scenario in order to enforce such a plan. But the door is not shut on a potential future air humanitarian corridor to guarantee safe flight of relief supplies hostilities cease, officials say.
More back ground: A deconfliction protocol has existed for several years between US and Russian forces in Syria. For the most part it has worked, although US officials have complained on several occasions the Russians have not given enough advance warning of their operations. The US does not give Russia detailed information but did notify them recently when US aircraft would be operating in a broad area northeast Syria. 
NBC News first reported the establishment of the deconfliction channel. 
1 hr 23 min ago
Russia-Ukraine crisis replaces coronavirus pandemic as top risk to global supply chains, Moody's says
From CNN's Matt Egan
The coronavirus pandemic drove global supply chains to the breaking point, causing shortages and sending prices skyrocketing. Just as the pandemic has calmed down, Russia's invasion of Ukraine threatens to further scramble fragile supply chains. 
Russia is a major producer of commodities, everything from oil and natural gas to palladium and wheat. Ukraine is also a major exporter of wheat as well as neon. The crisis is casting doubt on at least a chunk of those vital supplies.
"The greatest risk facing global supply chains has shifted from the pandemic to the Russia-Ukraine military conflict and the geopolitical and economic uncertainties it has created," Moody's Analytics economist Tim Uy wrote in a report on Thursday.
Moody's warned that the Russia-Ukraine crisis will "only exacerbate the situation for companies in many industries," especially those reliant on energy resources. 
Europe, in particular, will feel the most pain from the energy price spike because it is dependent on Russia for natural gas. Oil prices have surged worldwide, driving up prices for gasoline and raising the cost outlook for airlines and industries like plastics that use petroleum. 
The Russia-Ukraine crisis could pile further pressure on the worldwide computer chip shortage, which began during Covid and has been at the heart of the spike in new and used car prices.
Moody's pointed out that Russia supplies 40% of the world's supply of palladium, a key resource used in the production of semiconductors. Moreover, Moody's said Ukraine produces 70% of the world's supply of neon, a gas used in making computer chips. 
"We can expect the global chip shortage to worsen should the military conflict persist," Uy wrote. 
Neon prices skyrocketed during the 2014-2015 conflict in Ukraine. Even though chip-makers have stockpiled resources, Uy said that inventories can only last for so long.
"If a deal is not brokered in the coming months, expect the chip shortage to get worse," Uy said, adding that this will pose significant risks to automakers, electronics companies, phone makers and other companies. 
The combination of high energy prices and more pressure on computer chip supply will complicate the inflation picture. Consumer prices soared in January at the fastest pace in nearly 40 years. Although many economists anticipated inflation would cool off significantly later this year, that is now in doubt.
"The near-term effects on the U.S. economy of the invasion of Ukraine, the ongoing war, the sanctions, and of events to come, remain highly uncertain," Federal Reserve Chairman Jerome Powell told Congress on Wednesday. 
Beyond computer chips, Moody's pointed out that the Russia-Ukraine crisis has the potential to raise costs in the transportation industry, the most energy-intense of all industries.
1 hr 51 min ago
SpaceX sent internet terminals to Ukraine, but they could be be a "giant target" for users, expert says
From CNN's Jackie Wattles
SpaceX CEO Elon Musk sent a truckload of Starlink antennas — which can be used to connect to the company's satellite-based internet service — to Ukraine this week, responding to a plea from the country's vice prime minister amid fears that Ukrainians could lose internet access if Russia continues its attacks on communication infrastructure.
But using satellite services can be dangerous in wartime, as evidenced by a history of states using satellite signals to geolocate and target enemies, cybersecurity experts told CNN Business.
"If an adversary has a specialized plane aloft, it can detect [a satellite] signal and home in on it," Nicholas Weaver, a security researcher at the University of California at Berkeley, said via email. "It isn't necessarily easy, but the Russians have a lot of practice on tracking various signal emitters in Syria and responding. Starlink may work for the moment, but anyone setting a [Starlink] dish up in Ukraine needs to consider it as a potential giant target."
In short: "It may be useful, but for safety's sake you don't want to set it (or really any distinctive emitter) up in Ukraine anywhere close to where you would not want a Russian bomb dropping," Weaver said.
It's not clear how many Starlink terminals SpaceX sent to Ukraine, nor is it clear how the Ukrainian government plans to use or distribute them.
SpaceX's foray into aiding Ukraine began when the country's vice prime minister, Mykhailo Fedorov, issued a public plea to Musk on Twitter last weekend, saying, "while you try to colonize Mars — Russia try to occupy Ukraine! While your rockets successfully land from space — Russian rockets attack Ukrainian civil people! We ask you to provide Ukraine with Starlink stations and to address sane Russians to stand." It was one in a string of tweets Fedorov directed at various US-based tech figureheads, imploring them to take action on Ukraine's behalf.
Musk responded with offers to help, announced that the Starlink network was now activated in Ukraine, and, this week, a truckload of user terminals — which are required to give users access to the satellite-based internet service — arrived.
On Wednesday, he shared a photo of what appeared to be an active Starlink antenna at work.
The majority of the country still has access to their normal, Earth-based internet connections, despite attacks on other communications infrastructure, such as a TV tower in the capitol of Kyiv, by Russians, according to Alp Toker, who heads the internet monitoring firm NetBlocks.
But certain areas have experienced outages, Toker said.
Read the full story: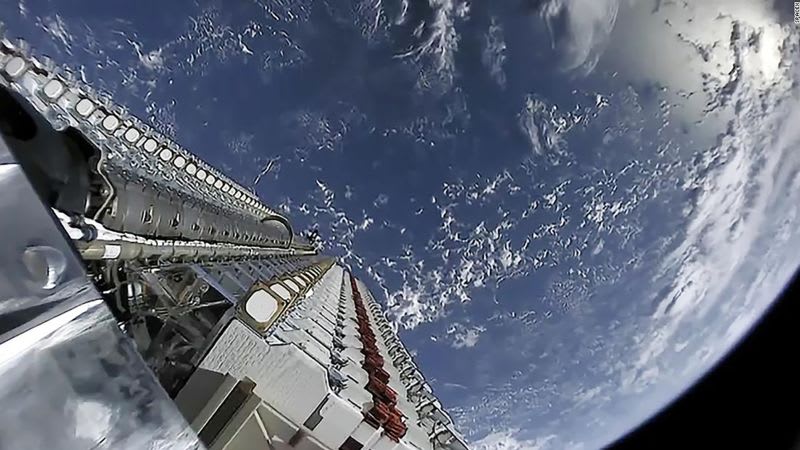 2 hr 7 min ago
Kherson resident: "We are a Ukrainian city and we want to stay a Ukrainian city"
From CNN's Emmet Lyons and Nicholas Pearce 
A resident from the Ukrainian city of Kherson told CNN's Christiane Amanpour that Russian soldiers are in Kherson but insisted that the city is a "Ukrainian city and we want to stay a Ukrainian city." 
"Our city is… flooded with Russian occupants, but the flag is still Ukrainian and we hope it will stay Ukrainian," 27-year-old Kherson resident Svetlana Zorina said. "We trust our mayor. We trust our government. We trust our army. We believe in our victory. We are a Ukrainian city, and we want to stay a Ukrainian city," Zorina said.
Kherson Mayor Ihor Kolykhaiev said Wednesday in a statement shared on his Facebook page that the Ukrainian military is no longer in the city and that its inhabitants must now carry out the instructions of "armed people who came to the city's administration" —indicating that the city has now fallen under Russian control. 
British military intelligence released early Thursday noted that "some Russian forces have entered the city of Kherson," but cautioned that the military situation on the ground "remains unclear."
In a statement on Thursday, Hennadii Lahuta — the head of the Kherson Regional State Administration — said Russian forces have "completely occupied" the regional state administration building. 
Kherson resident Zorina described to Amanpour the situation on the ground in the city. "We try not to go outside because it's dangerous. Today, for the first time, I realized to check near a store like a hundred meters from me, if they have some food, but there was nothing because we are surrounded by Russians, and it's impossible to deliver here food or medicine."
"So we basically trying to save what we can and we have food supplies, but it will be enough for a couple of weeks," she said. 
Zorina said that the city's administration is carrying out tasks despite Russian disinformation. "Our mayor is in contact with us, and city administration is in contact with us. There are Telegram channels. There is a web site of our mayor's office, and they share information, spread information with us," she told CNN.
"There is a huge propaganda that Russians tried to spread among Kherson and Ukrainian people, it's like we want to become a part of Crimea. It's not true. We don't want to. The mayor just tells us how the city will function during the next couple of days, that transport will work for people who work in, you know, electric station, water station, et cetera."
When asked by Amanpour about the Russian presence in the city, Zorina said that Russian soldiers are "not aware why did they come here, what is their goal, and they treat —Russian army treat the soldiers very badly. They are crying… our people are feeding them." 
Zorina described a grave humanitarian situation in the city as a result of Russian aggression and said that there were a "lot of civilian buildings that were struck… people are sitting in the apartments or basements, and woman — women who are pregnant gave birth to their children in basements." 
"I don't want to leave. I don't want to become a refugee. I want to live in my country. I was born in Kherson. I lived here almost all my life, and I don't want to change it, and I hope it's going to be over soon, and Russian army going to leave, occupants are going to leave," she said.
"I want to live in Ukraine. I'm Ukrainian," she added.
2 hr 16 min ago
Russian space chief says Russia will no longer sell rocket engines to the US
From CNN's Jackie Wattles
Russia's space agency, Roscosmos, will no longer deliver Russian-made rocket engines to the United States, Roscosmos head Dmitry Rogozin said on state television, ending a decades-long relationship between US and Russian rocket makers.
"Today we have made a decision to halt the deliveries of rocket engines produced by NPO Energomash to the United States," Rogozin said, according to the Russian news site TASS. "Let me remind you that these deliveries had been quite intensive somewhere since the mid-1990s."
TASS reported that the ban will apply to RD-180 engines that power US-based United Launch Alliance's (ULA) Atlas V rockets.
But ULA's CEO Tory Bruno said via Twitter that ULA has already taken delivery of the RD-180s it needs in the near-term, and he does not foresee the fallout from Russia's invasion of Ukraine having any impact on ULA's operations.
ULA, a private space transport company, is in the process of abandoning its line of Atlas rockets in favor of a new line of rockets, called Vulcan, that will use engines made by Jeff Bezos' US-based rocket company Blue Origin. It's not clear when that rocket will be ready to fly.
The ban also applies to RD-181 engines that are used on Northrop Grumman's Antares rockets, according to Russian state media. Those rockets are used to power uncrewed resupply missions to the International Space Station. Northrop Grumman did not immediately respond to requests for comment.
"As of today, there were plans to deliver an additional 12 RD-181 engines in 2022-2024 and talks were also held with the United States on the delivery of RD-181M engines with improved operational characteristics, but we believe that in this situation we can no longer supply the United States with our best engines," Rogozin said.
The US does have other means of getting cargo to and from the space station. SpaceX's Dragon spacecraft are frequently used for that purpose.
"Let them fly on something else, on their brooms," Rogozin told a Russian TV station Thursday.
2 hr 30 min ago
Estonian crew rescued after ship sinks off Ukraine coast following shelling
From CNN's Dan Wright and Josh Pennington
All six crew members of an Estonian-owned ship called "HELT" were rescued after the vessel sank off the Ukrainian Black Sea port of Odessa on Thursday.
The ship was hit by "occupier artillery," the Ukrainian parliament said on its official Twitter account, citing the country's seaports administration. 
"All 6 crew members are in satisfactory condition," it added.