Cardano (ADA-USD) does not stay out of the news cycle long. The network is constantly beefing up its offerings and partnerships, or else it is out courting governments in an attempt to further cryptocurrency adoption. Recent Cardano news has a bit of everything. Indeed, a new partnership, some dapp milestones and a growth fund are hyping up ADA crypto holders to start the month.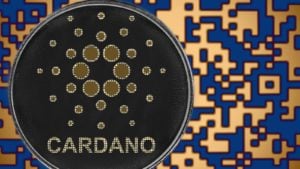 Source: Stanslavs / Shutterstock
It has been less than a year since the layer-1 network unveiled its smart contract capabilities. In the months since, developers have wasted no time in trying to expand the platform. Indeed, founder Charles Hoskinson and company have been globetrotting — mostly through Africa — to promote the use cases for cryptocurrency on a governmental scale. They have been successful so far in partnering with the governments of Burundi and Ethiopia.
And while its dapp offerings haven't taken off quite as quickly as anticipated, the network is certainly still growing fast. As of this week, the network has almost 900 dapps. While Hoskinson had predicted Cardano would contain thousands of dapps by now, 900 applications built since mid-September is still quite exciting. Moreover, the network has become a haven for the non-fungible token (NFT) market, with over 4 million native NFTs minted.
The Cardano developers have shown great aptitude in growing their network and promoting adoption of it abroad. This week's Cardano news shows that they aren't slowing down.
Funds and Partnerships Dominate Cardano News
Charles Hoskinson is taking his network abroad once again with this week's crypto news — this time to Europe. The Cardano Foundation, which underlies the broader Cardano network, is partnering with the University of Zurich in Switzerland for a three-year research initiative. The University of Zurich is a well-known institution in the crypto space; its Blockchain Center is one of the largest blockchain research centers in the world.
The partnership is a win-win for both parties. The university will be able to leverage an organization that underlies one of the largest layer-1 networks in the world. Using this relationship, Zurich researchers can look into many facets of blockchain technology. Using Cardano's chain as a point of research, experts can look into the nuances of different scaling technologies, security measures and more. Cardano, then, gets the benefit of using this research to help grow and develop its own network.
This news builds on a big announcement last week regarding a Wave Financial ADA fund. The financial services company announced that it would be contributing $100 million in funding toward the growth of the Cardano DeFi ecosystem. Using the funds, Cardano can supply developers on its network with the necessary liquidity to build robust DeFi platforms and services.
While the Cardano news is great for users, the network can't be saved from a slumping market today. The ADA crypto is trading down by about 4% this morning.
On the date of publication, Brenden Rearick did not hold (either directly or indirectly) any positions in the securities mentioned in this article. The opinions expressed in this article are those of the writer, subject to the InvestorPlace.com Publishing Guidelines.