AUGUSTA, Ga. — After a long, often chaotic first part of the week, the 86th Masters gets underway today with as much anticipation as one can remember a major championship carrying. Much of that obviously revolves around Tiger Woods teeing it up for the first time since his horrific car accident in February 2021, and he's taken almost all of the oxygen out of August National for the last three days. However, there are plenty of other storylines that will begin to unfold starting Thursday morning.
Chief among those is Rory McIlroy's bid for his first Masters and the elusive career grand slam. Asked about this Wednesday, his answer was tremendous:"I love Augusta National. I love the Masters. I've had wonderful times here and not so wonderful times. But I keep coming back every year, and I'll keep coming back as long as they'll let me." That's how many people feel about the Masters, and it's likely that one more name — perhaps Collin Morikawa, Jon Rahm, Scottie Scheffler, Viktor Hovland, Justin Thomas or McIlroy himself — will this year be added to the list of folks who will be able to keep coming back forever.
Watch the 2022 Masters streaming now with Masters Live as we follow the best golfers in the world throughout Augusta National with Featured Groups, check in at the famed Amen Corner and see leaders round the turn on Holes 15 & 16. Watch live for free on desktop and mobile via CBSSports.com and CBS Sports App. Also available on Paramount+.
CBS Sports will update this story with scores and highlights from the Masters below. Check out the live scores at the top of this story, a more detailed leaderboard, Round 1 tee times and our complete Masters TV schedule / coverage guide.
See New Posts
Pinned
Pinned
Sick up and down for the Cat on the first. Rolls in a long one to stay even par. Only 71 holes to go.
Pinned
Pinned
Pinned
Pinned
Pinned
Dicey first hole for Tiger so far. Drive that fell short right and he comes up short with his approach shot. Certainly not what he wanted out of the gate. Will be a difficult up and down from where he's currently at.
Pinned
Paul Casey withdraws from Masters
Ahead of his scheduled 10:53 a.m. tee time, 44-year-old Paul Casey has withdrawn from the Masters with an injury. Casey was 65-1 to win this week. He's never won at Augusta National but has five top-10 finishes throughout his career Finished T-26 last year.
Pinned
Pinned
Pinned
Pinned
Pinned
Pinned
Pinned
Pinned
Pinned
Pinned
Pinned
Pinned
Pinned
Pinned
Pinned
Tiger is wearing the most "Yo, I am back" shirt of all time.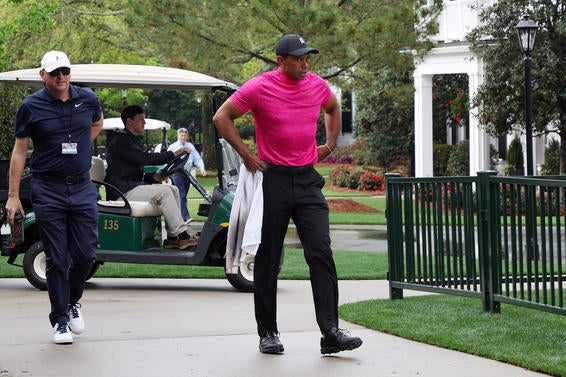 Pinned
I just walked the golf course and it is SOAKED. Way more than I even thought it would be. It's going to play so, so long today, which obviously benefits the longer players in the field like DJ, Rahm and Rory. I didn't see it but apparently Larry Mize had to lay up on the par-4 5th hole with a 3-wood (!)
Pinned
Pinned
Four-way tie atop the leaderboard early
This course is playing long and tough early on and unlikely it gets any easier. Thus far only four have been able to work their way into the red at this time, with Padraig Harrington, M.W. Lee, Harry Higgs and Guido Migliozzi all T1 atop the leaderboard at 1-under. 
Pinned
Pinned
Reigning Masters champion to play through pain
Reigning Masters champion Hideki Matsuyama, who withdrew from the Valero Texas Open a week ago with a neck injury, is on the range preparing for an 11:15 a.m. tee time. All signs point to him giving it a go. However, there has been a trainer tending to his right wrist, which has tape around it, and he has grabbed it on several occasions as he's been warming up. Something to keep an eye on as Round 1 gets underway, as it seems he's clearly going to be playing through pain this week.
"Last couple of weeks have been a struggle," he said earlier in the week. "But I've had a lot of treatment the last couple of days. . . It's probably the best I felt in a long time."
Matsuyama says he suffered the injury in the Arnold Palmer Invitational in early March, and it has hampered his training and preparation to try and go back-to-back with it at Augusta National.
"I haven't really been able to hit a full shot, a hundred percent full shot in a long time, so that's still a question," he said. "But I feel like the treatment I've been receiving is helping. I'm on the road to full recovery."
Pinned
Pinned
Tiger Woods looking to tie Jack's Masters record
With five career wins at Augusta National, Tiger Woods this week can tie Jack Nicklaus' all-time record of wins at the Masters with six. A win for him would also break Nicklaus' record of longest years between first Masters win and last Masters win, which is currently 23 years. (Woods' 2019 win was separated 22 years from his first in 1997.) As it stands, Woods is No. 2 all-time in total Masters wins and No. 2 in major championship wins — both trailing only Nicklaus. 
See More