With the summer coming up, people are beginning to head outdoors more and more. Whether you're having a weekend camping adventure or just a backyard getaway, solar-powered devices come in handy when trying to save electricity — and the money you spend on it. While there are only so many solar-powered items you can find on the market, most wired or battery-powered devices have their own solar-powered counterparts these days, and often the alternatives are interchangeable when it comes to functionality and performance, and sometimes even better.
From lanterns to stoves to all-out homesteads, you can find almost any piece of camping gear in solar-powered variants. And if you bring all of them together, you can almost replicate the feeling of your own home, but with the simple charm of existing amongst the elements. After all, doesn't half the fun of camping consist of doing a little extra work to ensure a livable experience? For the first-timer who wants the comfort of relying more on a natural form of energy, or the camping veteran who prefers the convenience of solar-powered setups, this list will highlight the essentials when planning your next trip. Here, we give you 12 of the best solar devices with which to substitute your mainstays. These are the essentials for your next adventure outdoors.
Goal Zero Crush Light
Solar lanterns are perhaps the most essential devices when beginning your conversion over to natural resources. At night, the necessity for light made lanterns one of the first "luxuries" of camping. And today, a good lantern is still as crucial. With a lot of solar-powered options to choose from, the Goal Zero collapsible lantern is simply the best when it comes to both functionality and budget. The company is also known for its larger flagship Lighthouse 400, which comes with a solar panel add-on, and is a great higher-end option. However, the Crush Light, which comes with either white or multicolored chroma LED bulbs, is fully solar-powered and can fit in your pocket.
Licorine Solar Charger
Let's face it, most of us aren't going camping without our cellphones. Even while off the beaten path, our smart devices can be used as GPS maps, step trackers, or cameras — at the very least. And if our trip extends days or even weeks, it's possible to go a long way without access to an electrical outlet. This is why Licorine's Solar Charger pack is an important addition to your camping go-bag. Providing 36800mAh and a multitude of charging ports, this power bank can support up to six devices at one time, and also serves as an LED flashlight. As a bonus, it comes equipped with a hanging ring for exterior backpack attachment.
Sunway Solar Car Battery Trickle Charger
The last thing you want when you're getting ready to take your vehicle out for a drive, or when you're loading up to get back home, is a dead battery. This trickle charger from Sunway is lightweight and stores nicely on your dashboard for easy sun access. The 12-volt panel keeps your car, RV, or boat battery topped off at all times when not using it for several days, or simply to give you peace of mind during your outdoor adventures. This particular trickle charger features a durable, splash-proof design and suction cups for versatile placement options.
MPOWERD Luci Explore
Just because a gadget is functional doesn't mean it can't look awesome. That's where MPOWERD's Luci Explore comes in. Lightweight and splash protected, this multi-colored solar lantern has 18 light options, stays lit for up to 24 hours, and serves as a portable charger and Bluetooth speaker as well. With an array of smart features, including phone app integration that allows you to use the Luci Explore as a programmable alarm clock or music player, the device is an easy-to-stow essential that you can use on your next camping trip or backyard barbecue.
NEMO Helio LX Pressure Shower
Since showering when camping isn't always fun, especially when it's cold outside, NEMO has created its vertical shower that's heated by the power of the sun, staying fully pressurized for up to 10 minutes of washing. Made to closely mimic your actual shower at home, the LX Pressure Shower holds 22 liters of water when full and then can be compacted down to a small two-pound sack for easy travel. No hose is needed for this tank, which can be filled up anywhere for accessible bathing off the grid, and the 7-foot hose is plenty long enough to hang over your head for a thorough rinse.
Monster SOLARA Solar-Powered Bluetooth Speaker
Not every outdoor trip will require you to stray far from basecamp. For a larger group outing around the fire, the Monster SOLARA wireless speaker is perfect for throwing on some background music or hosting a mini fiesta. One of the only speakers that doesn't require an add-on solar panel, the 20-Watt SOLARA can be connected to up to 7 other compatible speakers as well and has an LED for cool ambiance. Its omnidirectional sound and Bluetooth hookup make this device even more unique, but the solar-power capability allows you to venture away from areas with outlets if you so choose.
BioLite SolarHome 620+
When it comes to converting your entire outdoor space to solar-powered, few devices get you closer than BioLite's SolarHome 620+. This three-in-one system is more than just a lantern; it mimics a home-style setup with a mainframe light and three overhead lights (emitting 450 lumens in total), each with an 18-foot cable that allows you to spread them across several rooms. Each overhead light has its own wall-mounted on/off switch with three-level brightness control. The SolarHome features a 6W solar panel that powers the entire system, which also includes an am/fm radio, charging dock, and an LED screen that monitors solar intake.
GoSun Sport Pro Pack Solar Cooker
You don't have to sacrifice a good "home"-cooked meal when you're out camping. Lightweight and portable, the GoSun Sport Pro can reach up to 550 degrees Fahrenheit to make it possible to bake, roast, and steam a meal for two in under 20min. Utilizing its crafty design, this solar cooker harnesses incredible power from the sun, even if it's raining or cloudy — as long as there's some sort of shadow on the ground. The complete set includes a thermos for boiling water to make tea or coffee, and the silicone baking trays offer a super easy clean-up.
G-Shock Full Metal 5000
From a company known for its outdoor-ready watches, the G-SHOCK Full Metal 5000 is both durable and efficient, equipped with stopwatch and calendar functions. With water resistance of up to 200m, this watch also has a clean retro aesthetic that's perfect for those who want to wear a stylish, yet streamlined solar watch on their camping trip. An upgrade from the original G-SHOCK, the Full Metal 5000 is LED-backlit with adjustable brightness and features Bluetooth connectivity to your phone for precise two-way time sync.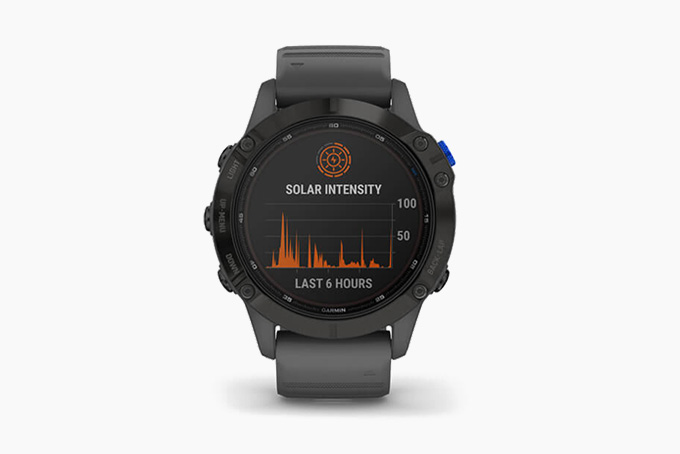 ​​Garmin fēnix 6 Pro Solar Edition
Who needs your phone when you've got Garmin's fēnix 6 Pro Solar Edition? Not just a watch, the device also acts as a solar-powered GPS-enabled topo map, health monitor, and extensive workout buddy for those who want to get more physical on their outdoor adventures. Features also include daily workout suggestions, water intake and sleep monitors, the ability to log and track previous workouts, and companions for golfing, skiing, and surfing, among other things. Its solar charge gives you up to 14 days of battery life. Think of this as every activity-themed phone app you'd need, but right there on your wrist.
GoSun Chillest Cooler
GoSun is simply the most reliable brand out there for solar-powered food utilities, and its Chillest electric cooler/freezer might just be its best offering. Eliminating the need for ice entirely, thus creating ample room for food and drinks, the 45-liter portable chest runs on a built-in battery that lasts 10 hours, but can also be charged up to 40 hours via attachable power banks, DC outlet, or GoSun's solar-powered attachments: a 30W panel or a 60W panel that doubles as a tabletop. Even better, with two separate compartments, the Chillest can be used as both fridge and freezer simultaneously, with touch temperature controls for each.
Redtail Overland RTC Rooftop Tents
As overlanding continues to grow in popularity, many rooftop campers (RTCs) have been cropping up. However, Redtail's solar-powered RTC is at the top of the heap. Gas struts allow the hard-walled tent to be set up in around 30 seconds, and the roof comes integrated with a solar panel. Aside from the basic overland tent, which has no power at all, Redtail's solar tent options range from 160W to 380W of power, featuring both interior and exterior dimmable lighting, off-grid charging for all your devices, and, for the top-line Summit model, integrated heating for travel in all seasons.
The 12 Best Solar-Powered Watches
If you wanna stick with solar-powered alternatives and love having several options to wear around your wrist, then dive into our guide to the 12 best solar-powered watches you can buy right now.
HiConsumption is reader-supported. When you buy through links on our site, we may earn an affiliate commission. Learn more